Interview • Portraits
Interview with Marie Nadal Sharma, Them You & Me: "We speak friendly digital!"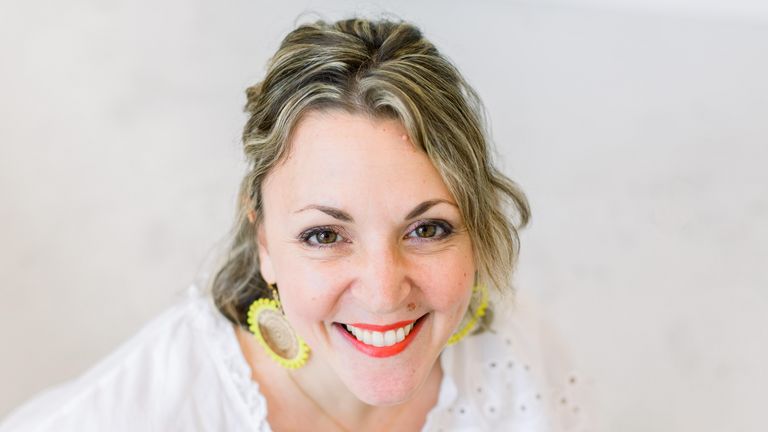 Marie Nadal Sharma, Founder & Director of Them You & Me, a digital marketing agency, shares about demystifying digital marketing.
1. What is your background?
I was born in the South of France and have been traveling the world since, working in New York, Italy, India, Hong Kong, Singapore and Australia, to name a few.
I have always been creative and I love website design and graphic design. My background is in (traditional) marketing and I naturally switched to digital marketing for my clients: website, SEO, social media. There has been no looking back since! I found a sudden passion for digital marketing and the immense potential it holds in transforming and growing businesses online. It's fascinating that the smallest business can have its own unique voice and find its audience online, worldwide.
Very quickly, I realized that I loved working with business owners, inspiring them and empowering them with the knowledge required to overcome their digital challenges, and successfully carry their venture forward, online.
2. A few words about your business
I am the Founder and Director of Them You & Me Ltd, a digital marketing agency speaking 'friendly digital' and guiding businesses through digital transformation while demystifying digital marketing.
My team and I lay a lot of emphasis on strategy, planning, and consistency in all aspects of digital marketing, right from website design to social media marketing, from content marketing to SEO and analytics. We are passionate about implementing customized strategies, and delight in helping clients with their to-do list about all things digital. We bring in fresh perspectives, challenge notions and ensure that things get done online.
At Them You & Me, we offer a transparent, nurturing and encouraging approach. We are passionate about what we do and take on every project with enthusiasm and dedication. Many people are not tech savvy and get discouraged when they simply don't understand and then the task seems impossible. We strive to reassure them, empower them and help them be independent in the digital landscape.
We use friendly words when approaching technical terms. We explain complicated things with simple and reassuring words.
At the end of the day, it is a good feeling to know that we have made a difference for businesses. And that gives us the strength and determination to fill the gaps in people's knowledge of technology and impact many more.
3. Why did you set up your business in Singapore?
I have travelled and lived in many places and Singapore was one of them. I have been a business owner since 2011, due to which opening a company comes naturally. We recently moved to Melbourne, so it is very important for me to operate between the two countries. And I'm happy to go back to Singapore to meet my clients and friends.
4. What was the most difficult challenge to overcome on your entrepreneurial journey?
It is a learning curve, every day. You don't know it all as a business owner and you never will. It was challenging for me in the beginning, but I realized that it was important to remove perfection from my thought process right away. Doing matters more, as does learning from your mistakes. You need failures to learn and grow. There is no escaping this. If you wait to know it all, you will never start. Each of us is specialized in something and this is what we should push forward.
We learn so much as business owners and have to perform so many roles, but there comes a point when you need to hire specialists/partners in associated fields to grow your business. The power of 'together' and teamwork.
The team is in different parts of the world and I wish we were all closer at times, but we work in an agile environment and this gives all of us more opportunities. The power of project management.
5. What are the next steps for your company?
As more and more businesses want to sell online, we want to leverage our expertise in this area because we understand their pain points. We're designing eCommerce websites with an end-to-end solution and provide coaching for them to manage the backend on their own.
I strive to empower more and more people and soften the boundaries between tech-savvy and non-tech savvy people.
I want to make sure some people are not left behind simply because they don't know something. The team and I constantly improve our way of communicating and explaining in order for others to access, understand and use the various digital tools out there, the friendly way. You learn better when you enjoy it!
6. A few tips for new entrepreneurs?
To just start, march to your own beat, and not compare yourself with anyone. You never know what really happens in a business and what others are going through. Don't assume anything!
Find your community - surround yourself with positive and happy people, those that make you smile and will be there for you, rain or shine.
Celebrate the small victories and take small pauses. My #1 advice: schedule a meeting on the calendar with yourself every week. And do not cancel it!
Reinvent yourself and be open to change - especially when the world is constantly evolving around us.
7. Your motto in life? Your business motto?
Technology is the new freedom when used consciously and boundaries is the new success. We can only grow and become a better version of ourselves when we're willing to shift our mindset and learn from others.
As my grandmother would say: It is not what happens that upsets us; it is the way we react to what happens to us. Choose to let go! It will not matter 5 years from now. (Advice to myself too!)
Be kind, always.
If you have any questions about your digital marketing strategy or website, please email Marie at marienadal(@)themyouandme.com or visit the website at www.themyouandme.com.