Companies news
JCDecaux The Digital Gateway at Changi Airport T3 – New launch of a Grand Icon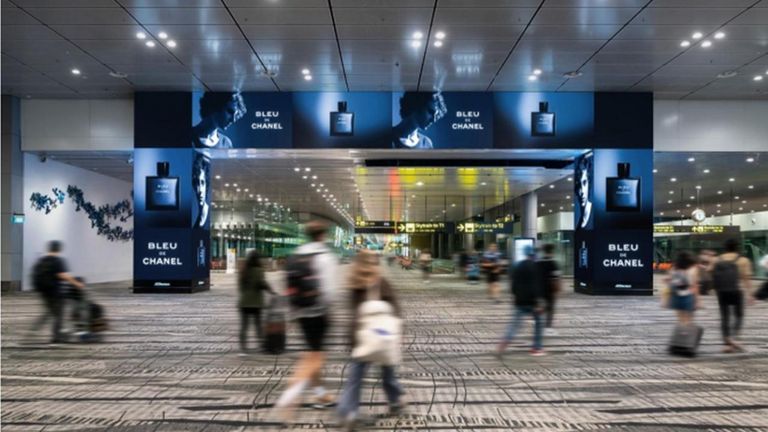 Singapore, 6 June 2023 – JCDecaux Singapore (JCDecaux), the No. 1 Out-of-Home media company in Singapore and a subsidiary of the JCDecaux Group, has just launched the Digital Gateway at Changi Airport Terminal 3 (T3), located at the twin gateway entry points to the airport's most premium terminal and home base of its national flagship carrier Singapore Airlines.
First launched in 2012 as the Digital 360, the iconic media site comprising four towering pillars each measuring 7 metres tall fully wrapped with a total of 192 LCD screens was the first of its kind in an airport, and established Changi Airport's status as a premier airport advertising destination with firstclass media.
To deliver an even more exciting digital media site that amplifies this premier status, the JCDecaux team completely re-conceptualised and re-engineered the 10-year-old Digital 360. The result? A 180- degree transformation from a mix of pillar-wrapped LCD & backlit panels to twin Digital LED arches forming a magnificent gateway between the retail zones and boarding gates on each side of the
terminal, giving 100% visibility to all arriving and departing passengers of T3.

The Digital Gateway offers an Ultra High Definition P1.9 LED display powered by state-of-the art content management software equipped for real-time, dynamic content and superior 3D visual capabilities. With the overhead arches, each full Digital Gateway display covers an area of > 60 m2, offering an impressive creative canvas of >120 m2 in total to delight, enthrall and engage the millions
of local and international passengers.

"We are delighted with JCDecaux's latest media site enhancement that has brought about a remarkable transformation of the new Digital Gateway. With its superior LED displays and best-inclass digital capabilities, we are confident it will be an even greater brand showcase and continue to charm our passengers with dynamic and captivating visuals, further elevating their experience at Changi," said Ms Teo Chew Hoon, Managing Director for Airside Concessions Division, Changi Airport Group.

"At JCDecaux, we continually innovate to build the best-in-class media to provide a superior advertising experience for both our landlord and brand partners. The newly enhanced Digital Gateway is a testament to this commitment, as it has been conceptualised from the start and its design now enhanced to complement and leverage its surrounding environment in T3. We are super excited to
unveil the spectacular Digital Gateway. It is a testament to our team's hard work and CAG's strong support and trust.

We are also extremely thrilled to have CHANEL continue as the long-term advertiser on The Digital Gateway. We are honoured by their close partnership that has seen the iconic media site become an important brand showcase for CHANEL at one of Asia's top air hubs and look forward to our continued collaboration to create more captivating campaigns to strengthen their brand affinity with the passengers of Changi Airport," said Ms Evlyn Yang, Managing Director of JCDecaux Singapore.
SOURCE: JCDecaux