Companies news
La Petite Ecole: pedagogical continuity for elementary students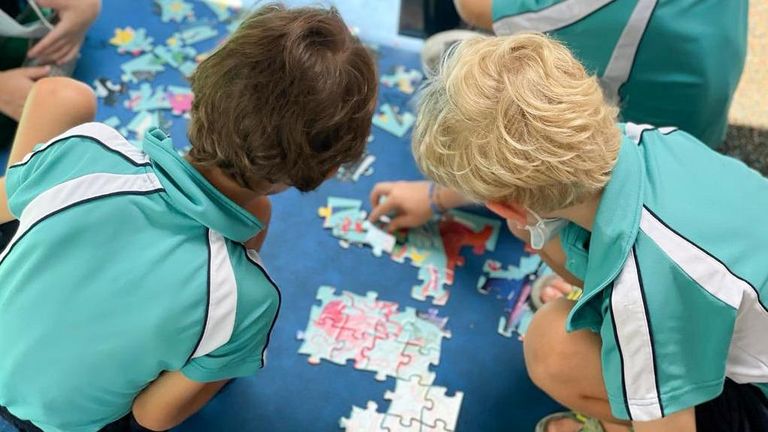 Choosing a school is an important decision for any parent, as it will shape the future of their child for the years to come. La Petite Ecole has been established as a French-Ministry accredited international preschool for the past 10 years, and has built a reputation for the quality of its bilingual teaching in French and English. With a philosophy that focuses on the wellbeing of each student and on working hand in hand with parents to reach that goal, La Petite Ecole continues developing its elementary offer.
WHAT YOU NEED TO KNOW ABOUT LA PETITE ECOLE
Its Mission:
The mission of La Petite Ecole, a member of Odyssey Education, is to offer quality education by teaching the official French curriculum in two languages, French and English, in a human-scale, green and serene environment. The school currently welcomes children from the French system 'Petite Section' (2.5 years old) to 'CP' or Preparatory Class (up to 7 years old).
An Accreditation of High Quality Standards:
It is accredited by the French Ministry of Education and a partner of the Agency for French Education Abroad, like the International French School with whom it operates in synergy to provide complementary offers to French nationals and anyone interested in the French curriculum. In order to offer a consistent, high standard French education abroad, the 'AEFE' body diligently monitors and coordinates the pedagogical methods of a network comprising over 535 schools worldwide.
Its Historical Location:
Historically, La Petite Ecole has always been located at 2, Turf Club Road, in the same building as Blue House International in Bukit Timah. In a small and buzzing city-state like Singapore, green, quiet surroundings are not easy to come by when it comes to operating a preschool. At Turf Club, the students not only benefit from an outdoor playground, but they also have access to sports fields and a swimming pool at stone throw, all of which are participating in creating an environment conducive to learning for preschoolers. They will continue to enjoy those facilities for the school year 2022-2023.
Its Development into Elementary School:
The step from preschool to elementary is important in the life of a child, as it brings many changes. It can sometimes be a challenging experience, as the child has created his own cocoon by the time the preschool years come to an end. As a response to families' request for their child(ren) to pursue their education at La Petite Ecole with the same pedagogical continuity and learning methods they have enjoyed in preschool, the school decided last year to expand its offer in Singapore with a 4-year plan to open elementary classes up to CM2 (Grade5), starting with the opening of CP.
La Petite Ecole and Alliance Française share a long-standing passion for French culture and language. Pre-Covid, a traditional field trip to Alliance Française was organised every year to allow children to immerse themselves in the French universe.
At the Heart of the French Hub for an Immersive Experience:
La Petite Ecole is delighted to be able to welcome their older students (CP and CE1) at Alliance Française from September 2022, where they will continue to be at the heart of a vibrant French environment with an opening to the world.
The students will benefit not only from unlimited access to Alliance Française' multimedia library, which contains over 17,000 books, DVDs and periodicals, but also from a direct access to exciting events (i.e. storytelling sessions, meeting authors, etc.) at their fingertips.
Alliance Française offers high quality language classes and entertainment, such as movie screening, theatre plays, and arts exhibitions, in modern, easily-accessible premises, at Newton.
CP and CE1 classes will have their dedicated classrooms for day-to-day lessons, with all the necessary equipment needed for elementary students (inc. digital equipment). Experienced French-speaking and English-speaking co-teachers will be teaching the official French curriculum in both languages, a trademark at La Petite Ecole. The children will continue to enjoy Mandarin classes and Library sessions with the pedagogical team they already know. They will also have a choice of Extracurricular Activities, such as language enrichment or theatre, and will be offered access to the holiday camps organised at the Bukit Timah site (subject to sanitary regulations from the authorities).
The well-being and safety of each student remains the top priority of La Petite Ecole. It is part of the school's philosophy that children should benefit from daily time spent outside, as we no longer have to prove the many benefits of being outdoors. Those are happy moments of play and social bonding, and are opportunities to continue to learn outside of the classroom space. CP and CE1 students will have secure access to the neighbouring parks for daily activities and Physical Education, but will also benefit from nearby sports facilities.
Depending on the needs of the school's families and for convenience purposes, ad hoc services such as canteen and school bus will be provided, as is the case at the current Bukit Timah location.
A new chapter for La Petite Ecole whose development project has received the full support of its parent company Odyssey Education, based in Paris, but also of the French and local authorities here in Singapore.
…And more exciting plans for the future !
While preschool will continue to operate at Turf City for the year 2022-2023, La Petite Ecole has yet bigger plans for the years to come.
Combining all levels onto one unique site organically helps consolidate the bridge between the 3 'cycles' that make up Primary School in the French Education system. As the idea is to provide continuity for its students year after year, all the way up to CM2/Grade5, La Petite Ecole's long-term project is to open a new campus in September 2023, where all the students will be able to grow and thrive in a holistic environment.
La Petite Ecole' schools in Asia (Singapore, Thailand and Vietnam) are members of Odyssey Education.