Companies news
Lagardère Travel Retail Singapore Wins Two Awards at Inaugural Travel Retail Superstars Awards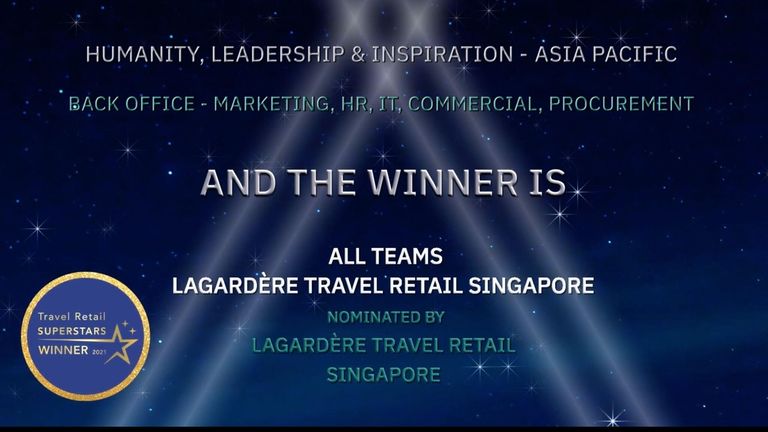 The Travel Retail Superstars Awards, the first edition of an annual awards for travel retail employees across airport, airline, downtown store and cruise sectors, has reached its crescendo.
The Moodie Davitt Report today named the inaugural winners of the TR Superstars Awards, which have placed an overdue spotlight on those frontline and behind the scenes heroes and heroines who have helped kept our industry going throughout the most profound and sustained crisis it has ever faced.
We asked employers to submit a written entry for each individual or team, addressing the impact made by the person or department through their actions, and how far they reached; how they measured success in terms of service or helped improve the business; and what made a particular staff member or team stand out.
Categories included Star Team, Star Individual, Star Story (Team or Individual), Innovation (Team or Individual) and Humanity, Leadership & Inspiration. Nominations were invited by region and by department: Shop Floor — Customer Facing, Logistics Warehouse, Back Office (Marketing, IT, Commercial and Procurement) to cover as broad a spectrum of staff as possible.
The announcement was made at the Virtual Travel Retail Expo on the final day of the pioneering all-digital event.
The awards, hosted by Martin Moodie, were judged by Spark Group of Companies CEO & Founder Heidi Van Roon and Flash global Logistics Global Director of People & Culture Marcus Griffin.
Moodie said, "All the nominees and their stories are exceptional, moving, exemplary. The number of entries we received was humbling and inspiring, a true celebration of the human touch that sets this industry apart."
"These awards are so timely and appropriate," added Van Roon. "I'm a big supporter of adding the human element into everything we do and reading these submissions have really inspired me thanks to the amazing commitment, creativity and resourcefulness of these individuals who have gone above and beyond"
Griffin added, "Thank you for The Moodie Davitt Report for this fabulous initiative and a huge shoutout to all the nominees and the folks who nominated them. The travel retail industry is awake, it's alive and it's recovering and if you read these wonderful stories of colleagues giving back – it will certainly inspire you."
For the full list of winners, click here
Star Story Asia Pacific: Shop Floor – Customer Facing
Discover Singapore Team, Lagardère Travel Retail Singapore