Companies news • Publications
Lazuli & Maison Kayser have partnered to exhibit Art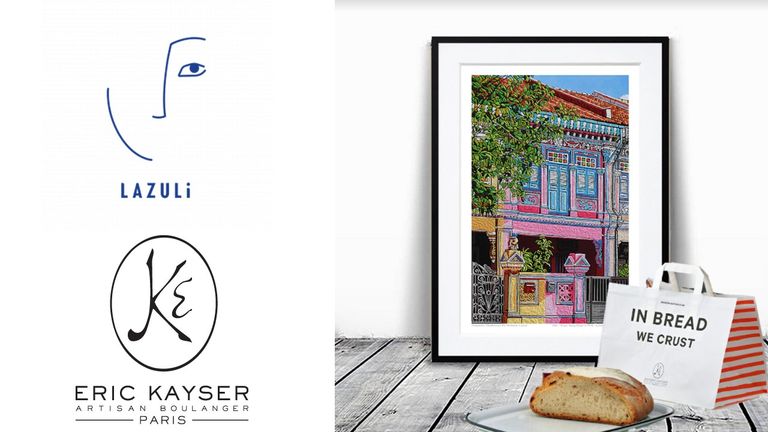 Here is what happens when a contemporary artisanal bakery meets an Art Dealer: they show local contemporary art, of course!
Half-way between the Online Gallery and the Consulting Firm, Lazuli is a new concept: both an online Art Gallery supporting local Artists, with pieces ranging from $500 to $5000, and a One-Stop-Shop for all your Art needs. From Art consultancy to sourcing, framing to restoration, installation to commission and custom-made pieces, they help you find the perfect artwork, tailored to you.
Julie Reynaud, Founder of Lazuli said : 'Supporting artist development is at the heart of everything we do and we're passionate about connecting artists with new audiences. So this opportunity to partner with Maison Kayser was not to be missed!'
Maison Eric Kayser is a world-renowned artisan bakery in Singapore. Founded by Eric Kayser in 1996, Maison Kayser is an authentic artisanal French Bakery… Meaning that in Paris, Singapore and other 24 countries in the world, artisan bakers from Maison Kayser start baking in-house early in the morning, using natural leaven and long fermentation process to come up with the best quality days after days.

Eric Kayser's bakeries propose a wide selection of breads, pastries, viennoiseries, baked goods and snacks from the French classics to more exotic creations.
'Artisanal bakery is a craft like none other. Every day in our shops we see baker chefs living their passion, and food lovers savoring good products. Thinking that with simple ingredients flour and water, we give and share pleasure with people; this feeling is priceless.' Eric Kayser – Artisan Boulanger.
So here is what happens when a contemporary artisanal bakery meets an Art Dealer: they show local contemporary art, of course!
French Artist based in Singapore since 2002, Nathalie explores Singaporean heritage and culture through the quaint charm of Peranakan architecture.
'One of my greatest pleasures is wandering through the streets looking for great light and great colours to take pictures that inspire me. This is how I discovered the shophouses. It was love at first sight! Since then, I look out for them wherever I go. They became my main source of inspiration. In my opinion, shophouses are the true legacy of
Singapore.' Nathalie Laoue – Artist
With this Lazuli x Maison Kayser Collection, architecture and design lovers will appreciate how Nathalie delves into Peranakan culture, architectural styles through history; Baroque, Victorian, Rococo; pintu pagar, ceramics, tiles, symbolism; the origins of Chinatown and Stamford Raffles. Her creations are visually stunning, as she captures vivid colour and bright light, ornamental details, structural forms and geometries, and the surrounding landscape of alleyways, flowers and greenery.
This beautiful collection of Fine Art Prints is currently showing at Maison Kayser Joo Chiat and available for sale on www.lazuli.art/shop, framed and ready to hang.
Enjoy the delicious pastries from Maison Kayser while exploring Singaporean heritage through the Art on the walls.
For information:
Maison Kayser, 162 Joo Chiat Rd, Singapore 427437
Lazuli: www.lazuli.art