Publications
FOCUS 71: Making Zero-Carbon Transition A Service For Everyone
Editor's note: This article was first published in January 2020 when Mr Pierre Cheyron was CEO of ENGIE South East Asia. He is succeeded by Mr Thomas Baudlot on 1 September 2020. Pierre is now based in Paris, France, and is the Managing Director of the Global Business Line Client Solutions at the ENGIE Group.
Pierre Cheyron, CEO at ENGIE South East Asia discusses how Engie's business solutions in energy efficiency and sustainability are seen "as a service" for their clients.
ENGIE has committed to producing carbon-free energy. How do you see your activities growing in Singapore and the region?
With our team of over 4,000 employees in Asia-Pacific region, we design and tailor our business solutions in energy efficiency and sustainability "as a service" for our customers in commercial buildings, industries and cities. Together, we deliver our shared ambition in accelerating the zero-carbon transition.
In March 2018, ENGIE announced an investment of S$80 million over the next five years in Singapore to develop a Centre of Expertise for district cooling and to drive digital initiatives and technical competencies in energy efficiency for the region. The ENGIE Factory Asia-Pacific was set up next as an incubator to empower the region's start-ups in jointly developing sustainable solutions for Asian environment.
Earlier this year, our ENGIE Asia-Pacific headquarter was relocated to Singapore to help local authorities and businesses in the region to capitalise on sustainable growth opportunities. In October, ENGIE and JTC, Singapore's leading industrial developer, signed a Memorandum of Understanding (MoU) to engage in joint research and development, test-bedding and pilot deployment of advanced clean energy solutions in JTC's industrial buildings.
Are there challenges to ENGIE's ambition towards zero-carbon transition?
Some countries are still forecasting growth in coal power generation and some businesses are still hesitant about jumping onto the industry 4.0 bandwagon to adopt digital and low-carbon, energy efficient solutions.
To play our part to make a difference, we aim to work alongside local authorities, industries, businesses, partners and other stakeholders to support the region's economic development with efficiency gains through energy transformation.
We want to keep delivering sustainable solutions that enable energy efficiency and reduce carbon footprint to reconcile individual interests with collective benefits.
Do you have any projects or partnerships that help customers achieve their sustainability goals?
ENGIE is harnessing digitalization such as IoT, digital remote control and monitoring systems to help organisations enhance efficiency. These solutions have been developed to meet organisations' demands to connect buildings (shops, outlets, branches, etc.) in one territory to a centralised platform.
Real-time indicators such as customer satisfaction, customers footfall, energy consumption, indoor temperature and humidity provide organisations with recommendations to improve their customers' journeys and reduce operating costs.
For example, in Singapore, ENGIE has partnered with UnaBiz and KK Women's and Children's Hospital (KKH) to successfully pilot energy-efficient sensors that provide KKH with remote temperature and humidity monitoring capability. The low power sensors not only allow KKH to intervene early when temperature and humidity anomalies arise so as to provide better care to patients, they also allow KKH to cut its energy consumption.
What do you think is urgent to address in this rapid decline of climate change?
Consumers too are becoming more conscious of the environmental impact of non-renewable energy sources and are putting pressure on governments and companies to be more sustainable. More investors are also looking to park their money with sustainable assets.
In the midst of this transition, we have seen action move away from the traditional top-down approach. Private organisations have taken responsibilities and initiatives to cut carbon emissions and enhance energy efficiency. This is a positive sign.
Addressing climate change is a shared responsibility and requires collaborative effort to tackle. Countries will be able to achieve their carbon emission goals if both the public and private sectors collaborate to create a conducive environment for green energy solutions and sustainable business models.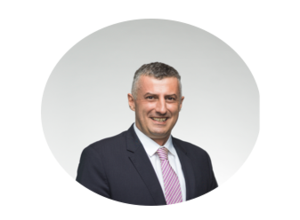 Interview with Pierre Cheyron, CEO at ENGIE South East Asia , for FOCUS #71. To read more articles from this issue, download your digital copy here