Event report
Meet The CEO #28 NATIXIS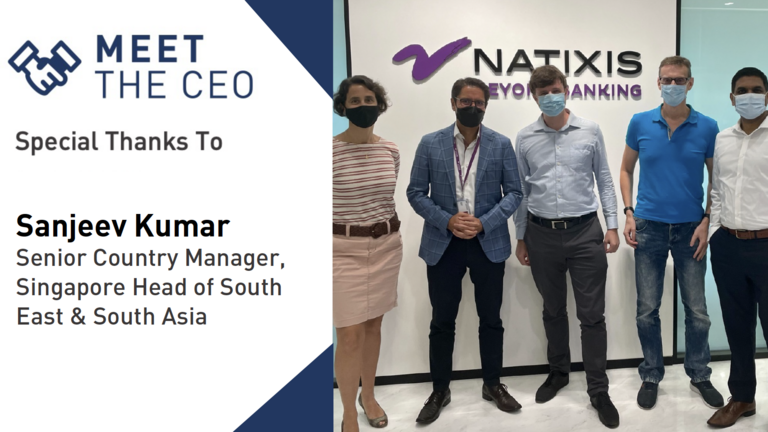 Thank you Sanjeev Kumar, Senior Country Manager, Singapore Head of South East & South Asia at NATIXIS, for leading our March 2022 session of Meet The CEO.
Sanjeev met with six start-ups and SMEs chosen according to his business relevance and giving them the opportunity to introduce their business over the course of an afternoon of 30-minute one-on-one meetings.
Laurent Fabry, Managing Director DIGITAL CONTENT TECHNOLOGIES,
François Moerman, CEO and Frederic Gillant, CRO at XRATOR,
Matthieu Guillou, Area Sales Manager - Asia Pacific at KLAXOON,
Brice Degeyter, Founder at BIZSU,
Alban Medici, APAC Managing Director at ACTILITY SINGAPORE,
Gildas Coldeboeuf, CEO at ARTASI
A special thanks to Natixis's Leocadie Thuillier, Managing Director and COO, and Rakesh Venugopal, Managing Director and CIO, for attending the meetings and contributing their expertise.
***
Meet The CEO is a monthly initiative of the French Chamber in Singapore that provides opportunities for start-ups and SMEs to connect with a CEO of a large company. Find out more here about our Startup and Entrepreneurs Program, please email Lydia Hernandez-Fulton or visit https://bit.ly/3HjbKaK