Event report
Meet The CEO #34 DECATHLON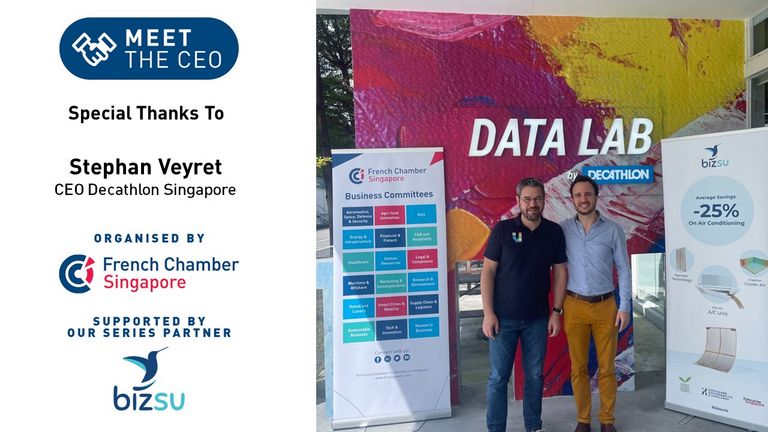 A warm thank you to Stephan Veyret, CEO Decathlon Singapore, who was our CEO of the month.
During our MEET THE CEO session, Stephan met with six start-ups, entrepreneurs, and SMEs in one-on-one sessions, exchanging with them best practices, insights, and potential synergies.
Emmanuel WHITE, Founder WeLinkTalent
Jean Christophe BOUGLE, Director and Bryony ALLEN, General Manager at FEWSTONES
Cyril MOUTERDE, General Manager CHEESE CLUB
Terence HO, Singapore Director ADEN Group
Julie LE PAGE, Chief Representative APAC KINEIS
Mikael YITZHAKOV Regional Principal Consultant LINCOLN HR Group
With special thanks to our Series Partner, Bizsu, sponsor of MEET THE CEO, an initiative of the French Chamber of Commerce in Singapore that provides opportunities for start-ups and SMEs to connect with a CEO of a large company.
Want to know more about the MEET THE CEO program? Please contact Agate Wack awack(@)fccsingapore.com