Companies news
Moët Hennessy Buys Château Minuty In Big Bet on Luxury Rosé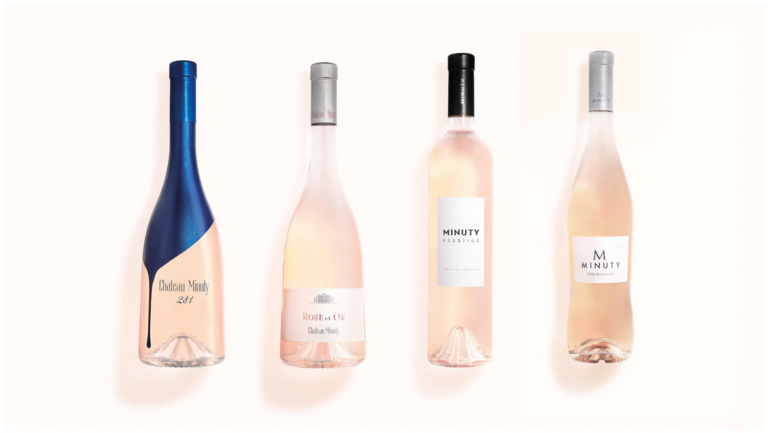 By Elin McCoy
February 15, 2023 at 2:30 PM GMT+8
In winter, I often dream of sipping pale pink rosé in a Provence café while watching sleek yachts bob in a sun-spackled blue sea. I'm not alone on this. And LVMH Moet Hennessy Louis Vuitton SE knows it.
Moët Hennessy, the luxury conglomerate's wine and spirits division, is announcing its third investment in pink and Provence, a majority share of iconic, family-owned Château Minuty, the rosé leader on the Riviera and in Europe. The company declined to make public the majority percentage and price.
Almost from the beginning of his tenure as chairman and chief executive officer in 2017, Moët Hennessy's Philippe Schaus says he has had his eye on pink wine, envisioning a rosy future. "We're looking at rosé's consumable moments—as an aperitif, for fine dining, in nightclubs," he explains in an exclusive interview via Zoom.
So in 2019, he added pink producers to the Moët Hennessy portfolio. First came Côtes de Provence cru classé Château Galoupet, now farmed organically, and later that year, a majority share in Château d'Esclans, maker of the Hamptons summer favorite, Whispering Angel.
Provence is to rosé as Champagne is to sparkling wine," says Schaus. "Our three rosé properties mirror the group of maisons we have in Champagne. Each one has its own personality and identity. We're covering what is rosé today."
Minuty, nestled on the glitzy peninsula of Saint-Tropez a half-mile from the Mediterranean Sea, has belonged to the Matton-Farnet family since 1936 and is one of the 18 original crus classés in the Côtes de Provence appellation. In the past few years, its four rosé cuvées (the 2022 vintage ranges from $23 to $110) have made a big push into the US market. Minuty says it sold 9 million bottles worldwide last year. Jean-Etienne and Francois Matton, who will continue to manage the estate, announced they are "delighted with this partnership."
Now that pink wine is much more than just a summer essential, investment in its ur-region has drawn other big players, plus such celebrities as Brad Pitt. The actor officially purchased Château Miraval with his now-ex-wife Angelina Jolie in 2012; Pitt is suing Jolie for selling her share. The Chanel group, owned by the Wertheimer family that's behind Bordeaux cru classé châteaux such as Rauzan-Segla, snapped up Domaine de l'Ile on the remote, car-free island of Porquerolles in 2019. In 2020, Michel Reybier, owner of Bordeaux's Cos d'Estournel sought out Château La Mascaronne and pulled in as an investor retired NBA star Tony Parker. And last year, Pernod-Ricard acquired Côtes de Provence cru classé Château Sainte Marguerite.
As Moët Hennessy's CEO, Schaus is constantly scanning the global wine landscape for potential acquisitions. Château Galoupet, with 68 hectares of vines, is now a vibrant laboratory of sustainability experiments. When I visited last summer, teams were busy making an inventory of every species living on the estate and planning a "palace" for bees. It had just released its first two rosés, including Galoupet Nomade, in a flat, recycled-plastic bottle.
After Moët Hennessy took a 55% stake in Sasha Lichine's Château d'Esclans, which makes five rosé cuvées in addition to the ubiquitous Whispering Angel, Moët doubled its vineyard holdings and more than doubled its volume of sales in the US.
Last year the iconic Joseph Phelps winery in Napa joined the mix. At the time, Schaus said it was the perfect fit with Moët Hennessy because it was a family business with a legacy and a heritage. That's one component of the criteria by which Schaus judges acquisitions. Besides a family heritage, high-quality wine is a given, the potential for scaling up is essential, and the price points must be right.
The Minuty deal came about after Moët Hennessy took on distribution, starting two years ago and effective last year, of the estate's wines in the Asia-Pacific region, where the brand previously had little presence. When Schaus learned that the Matton family was considering selling, he pounced.
Buying a majority share as a transition to eventual full ownership has advantages, he says. "First, we ensure that we understand their savoir faire—their ways of thinking and working—absorb their history and family heritage, and maintain connections with growers." The wine is already farmed without herbicides or pesticides, which fits Moët Hennessy's recent sustainable viticulture push that it most recently highlighted at last summer's Living Soil Forum in Provence.
It will fall to the Matton family to decide whether to continue to produce a red and white, in addition to its four rosés. Expect much wider availability around the globe, especially for the entry level pink cuvée.
"For our part, we can accelerate distribution in places like Asia, Africa and the Caribbean. Our Champagne brands open doors. And we can help with logistics and He shrugs off the suggestion that the world has already hit peak rosé. He has an expansive view of what the segment—especially top bottles from Provence—can become. "Rosé can compete with Champagne in the world of aperitifs," he says, while expensive cuvées like Château d'Esclans' Garrus and Minuty 281 have richness and complexity for fine dining and celebrations. ''In bars and nightclubs in France and Spain, Moët Hennessy has been busy introducing it as the drink of choice. support volume growth," says Schaus.
SOURCE : Bloomberg.com