Companies news
Namiki Precision (Thailand) Co., Ltd. and Constant Energy / Shizen Energy execute a Corporate PPA for a corporate solar PV rooftop in Thailand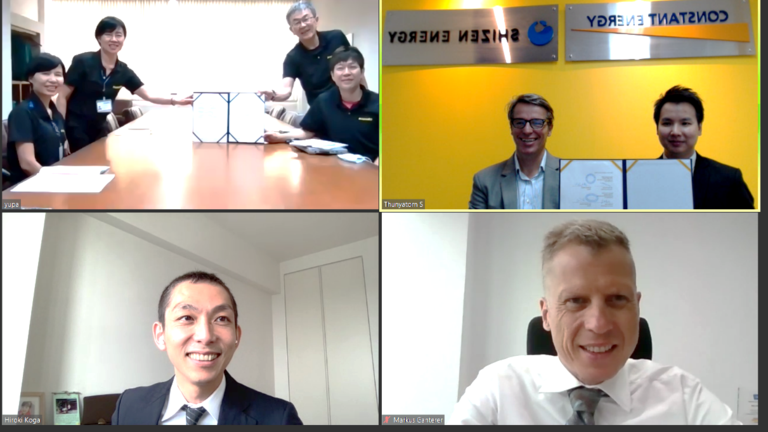 From L to R: Ms. Yupa Polsamart (Namiki Admin. SR Manager), Ms. Aroonrat Limtrakul (Namiki Admin. & Operation Planning General Manager), Mr. Kenji Yamauchi (Namiki Chief Operating Officer & Director), Mr. Yuya Mikami (Namiki Operation Planning Asst. Manager), Constant Energy team: Mr. Franck Constant (CEO), Mr. Tanapat Pongvanatsabodee (Business Development).Bottom: Mr. Koga Hiroki (Shizen Energy Head of International Business Department), Mr. Markus Ganterer (CFO)
Constant Energy and its Japanese partner, Shizen Energy, are pleased to announce they have executed a long-term Power Purchase Agreement on a corporate solar PV rooftop of total installation capacity of 1.3 MW with Namiki Precision (Thailand) Co., Ltd. a leading company on producing and providing Medical Devices, Fiber Optic Components, DC Micro Motor located in Northern Region Industrial Estate, Lamphun province. The project is expected to start operation in the third quarter of this year.
Due to limited factory access during the COVID-19 pandemic situation in Thailand, the e-signing ceremony was held to celebrate a new partnership with a Japanese leading company, Namiki Precision (Thailand) Co., Ltd. via Zoom meeting. The participants across Thailand and Japan have joined the ceremony to witness this partnership.
Franck Constant, Founder, and CEO of Constant Energy stated: "We are very pleased and honoured to establish a long-term partnership and work with Namiki Precision (Thailand) Co., Ltd., a leading company for manufacturing producing high-quality medical devices, fiber optic components, and DC micro motor. We are especially appreciative of the vision of Namiki on environment conservation. We are appreciated that Namiki found that Constant Energy has been rapid to implement Namiki's site as a priority. The project is expected to COD in the third quarter of this year. We look forward to supporting Namiki on a combined reduction of electricity cost and GHG emissions."
Koga Hiroki, Head of International Business Department of Shizen Energy, mentioned: "We are very pleased to execute this PPA with Namiki Precision (Thailand) Co., Ltd. Despite the travel restrictions by Covid, we highly appreciated the understanding of Namiki Precision (Thailand) Co., Ltd. to have this E-ceremony and are pleased to mark this as the first step of a long-term relationship. Together with Constant Energy, we would like to actively contribute to the environmental vision of Namiki Precision."
Kenji Yamauchi, Chief Operating Officer and Director of Namiki Precision added: "We, Namiki, have a very high concept of how to be responsible for the environment. Through this corporate PPA, we are very happy to contribute CO2 reduction to the country. We highly appreciated that Constant Energy provided such kind of proposal. And we are looking forward to the further implementation and operation of the asset. This solar installation is totally aligned with our concept."
About Constant Energy
Constant Energy is a renewable electricity generation and storage investment platform which invests in and manages high-quality power assets in selected countries. As a solar developer and Independent Power Producer (IPP), we develop, design, finance, build, own and operate utility-scale and large industrial rooftop-based solar PV power plants. Regionally headquartered in Bangkok, Constant Energy operates in Asia with a primary focus in Southeast Asia. We produce clean and reliable electricity to our clients for the long term, enabling them to reduce their energy bill, increase profitability and enterprise value while focusing on their core business activities.
More information at www.constantenergy.net.
About Shizen Energy Inc.
Founded in June 2011 with the mission of "We take action for the blue planet", the Shizen Energy group has contributed to the development of approximately 1 GW (as of Sep 2019) worth of renewable energy across Japan. Shizen is engaged in all services required for the installation and operation of solar, wind, small hydroelectric, and other renewable energy power plants, such as development, EPC (engineering, procurement, construction), O&M (operation and maintenance), electricity retail market, and asset management. The company intends to construct photovoltaic power plants in countries around the world, beginning with the regions of Asia and South America. More specifically, Shizen has operating renewable projects in Brazil, Indonesia, Vietnam and Thailand.
More information at http://www.shizenenergy.net/en/
About Namiki Precision (Thailand) Co., Ltd.
Namiki Precision (Thailand) Co., Ltd. established in September 1990 on producing high quality medical devices, fiber optic components and DC micro motor. Namiki is committed to the slogan "Sustainable development" and places great importance on certification(ISO). Namiki gives careful consideration to providing best-in-class product quality at reasonable prices and always taking into account the environmental aspect.
More information at https://www.namiki.co.th/