Companies news
New TRA Report Reveals Edge Computing's Pivotal Role in IT Strategy and Digital Economy Growth in Asia Pacific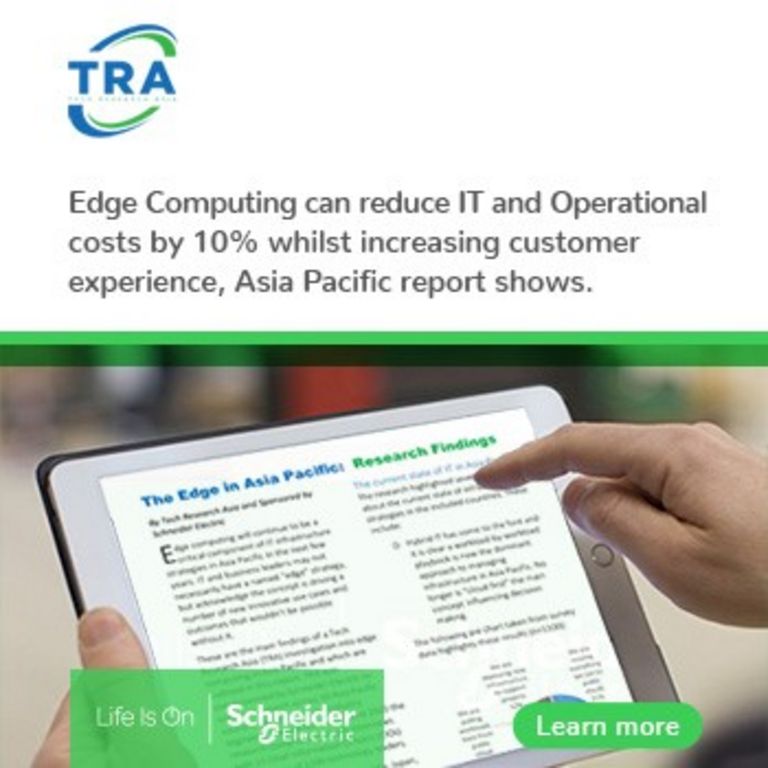 Schneider Electric, the leader in digital transformation of energy management and automation, today announced findings of Tech Research Asia's (TRA) survey on edge computing in Asia Pacific. The recently released report commissioned by Schneider Electric includes insights from 15 Chief Information Officers (CIOs) and 1,100 technology leaders across various industries in Asia Pacific on the current state of IT, edge computing use and intentions and future guidance. The report also addresses edge computing insights on five industry segments in greater depth.
"A significant number of organisations across Asia Pacific in the next few years will experience the power of edge computing," said Trevor Clarke, Director, TRA. "While not everyone will be using the term 'edge', but they will absolutely need edge sites and capabilities in order to succeed," he added.
The survey was composed of extensive research and in-depth interviews with respondents across various industries. Respondents were based in countries throughout Asia Pacific namely Australia, Japan, Singapore, Indonesia, Malaysia, Thailand, Vietnam, South Korea, Philippines, and Taiwan.
"This new report from TRA demonstrates the top reason IT leaders adopted edge computing was to address bandwidth and latency issues. This offers further evidence that there is significant value in deploying edge in today's business environment where speed and greater efficiency is a competitive advantage," said Benoit Dubarle, Senior Vice President, East Asia and Japan, Schneider Electric.
Edge computing benefits include reduction in IT and operational expenses
The report revealed that 72 percent of the respondents that have adopted edge computing saw benefits in terms of reduction in IT costs, followed by reduction in operational costs (46 percent) and increase in customer satisfaction (34 percent). In terms of industries with the highest adoption rate, the higher education sector tops the list with 68 percent of organisations surveyed having adopted edge. Factors like the global pandemic and new learning models have made collaborations and sharing of resources among institutions more common.
Similarly, about half of those surveyed in the healthcare industry have adopted edge computing of which 80 percent are existing users of some form of cloud computing service. The research suggests the top reasons for this shift is to tackle bandwidth and latency issues, address security obligations and increase cost efficiency. In the area of financial services, 63 percent of Asia Pacific's financial services industry organisations have adopted edge computing compared to 22 percent of the respondents that said they will move every workload to cloud, showcasing a preference for edge.
Current state of IT in Asia Pacific
The research highlighted several key points about the current state of infrastructure strategies across the 10 countries. Here are some of its findings:
Hybrid IT has come to the fore with 51 percent of respondents indicating they will have a mix of cloud and on-premises infrastructure. It is clear a workload-by-workload playbook is now the dominant approach to managing infrastructure in Asia Pacific. Businesses are no longer practicing a "cloud first" concept which influences their decision making.
There is a slight rise in the expected number of owned data centres and use of colocation. A total of 21 percent of respondents plan to deploy new infrastructure.
95 percent of respondents say they already use a Software as a Service (SaaS) today. This percentage will remain constant, although TRA expects SaaS growth to continue with organisations using more services over time.
Key report takeaways about edge computing adoption
In terms of market adoption, 28 percent of IT leaders across Asia Pacific are leveraging edge computing across multiple sites with an additional 38 percent more adopters in the next 24 months. This is expected to drive an increase from a median of seven sites to 11 sites.
The top use cases for edge computing include:
Customer experience – using edge sites to provide better experiences and allow customers to access data and apps more securely and quickly.
Employee Experience – reducing latency and allowing employees to be more productive, possibly with new IoT-driven functionality and experiences.
Monitoring – enabling pro-active maintenance of equipment and machinery, monitoring the health of building and assets, and ensuring CCTV security monitoring.
Overall, early adopters of edge computing in Asia Pacific have typically seen a reduction of IT and operational costs resulting in level of improvement over business ranging from a median of five to 10 percent.
Download the free report to learn more
Download the full report by TRA, The Edge in Asia Pacific: Research Findings
Schneider Electric is committed to help businesses digitise and address their challenges in terms of latency, security, cost, monitoring and governance. Click here to learn more about our edge computing solutions.
For more information on Schneider Electric and its latest innovative products, visit Schneider Electric's official website and at https://www.se.com/my/en/.