Event report • Interview
Past Event| A Conversation with Mr. Ngien Hoon Ping, Group Chief Executive Officer, and Executive Director of SMRT Corporation Ltd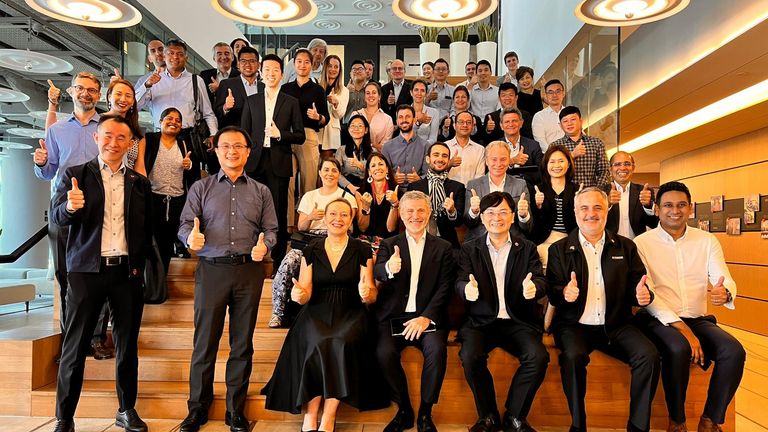 We thoroughly enjoyed an insightful sharing by Mr Hoon Ping Ngien, Group CEO at SMRT, one of Singapore's leading public transportation companies. We learnt about SMRT's collaboration with French companies in Singapore, and international development plans in Europe/France and the region. Besides being a leader in Singapore, SMRT will also be serving connectivity with Sentosa via the Monorail, and with Johor Bahru via the RTS Link. SMRT also has a strong presence in France – as the shadow operator for the Grand Paris Express, for which SMRT has been approached due to their expertise in operations and maintenance, asset renewal, and passenger service. More than 60 FCCS members attended the event, and here are the highlights:
Overview of SMRT: Stewarding SMRT in Moving People, Enhancing Lifestyles. The session kicked off with an overview of SMRT's business in regulated public transportation as well as commercial business.
Collaboration with French Companies in Singapore
We discussed success stories of SMRT collaborating with French companies in Singapore.
Business in France/ Europe and globally We also learnt that Strides International (SMRT's International arm) has delivered many Operation & Maintenance, Engineering, Mobility and Transit Lifestyle solutions in countries across Asia, Europe, and the Middle East. The highlight of the day was a thought-provoking Q&A session with SMRT's Group CEO. We learnt from the CEO that "𝘣𝘺 2027, 𝘚𝘔𝘙𝘛 𝘸𝘪𝘭𝘭 𝘦𝘧𝘧𝘦𝘤𝘵𝘪𝘷𝘦𝘭𝘺 𝘤𝘰𝘯𝘯𝘦𝘤𝘵 𝘤𝘰𝘮𝘮𝘶𝘵𝘦𝘳𝘴 𝘧𝘳𝘰𝘮 𝘑𝘰𝘩𝘰𝘳 𝘉𝘢𝘩𝘳𝘶 𝘢𝘭𝘭 𝘵𝘩𝘦 𝘸𝘢𝘺 𝘵𝘰 𝘚𝘦𝘯𝘵𝘰𝘴𝘢". On leadership, the CEO advised: "𝘉𝘦 𝘩𝘶𝘮𝘣𝘭𝘦, 𝘬𝘦𝘦𝘱 𝘰𝘯 𝘭𝘦𝘢𝘳𝘯𝘪𝘯𝘨 𝘧𝘳𝘰𝘮 𝘷𝘢𝘳𝘪𝘰𝘶𝘴 𝘰𝘳𝘨𝘢𝘯𝘪𝘴𝘢𝘵𝘪𝘰𝘯𝘴 𝘢𝘯𝘥 𝘭𝘦𝘢𝘥𝘦𝘳𝘴. 𝘞𝘰𝘳𝘬 𝘸𝘪𝘵𝘩 𝘺𝘰𝘶𝘳 𝘵𝘦𝘢𝘮, 𝘣𝘦 𝘱𝘳𝘦𝘱𝘢𝘳𝘦𝘥 𝘵𝘰 𝘢𝘥𝘢𝘱𝘵 𝘢𝘯𝘥 𝘤𝘩𝘢𝘯𝘨𝘦 𝘧𝘰𝘳 𝘵𝘩𝘦 𝘨𝘳𝘦𝘢𝘵𝘦𝘳 𝘨𝘰𝘰𝘥 𝘰𝘧 𝘵𝘩𝘦 𝘰𝘳𝘨𝘢𝘯𝘪𝘴𝘢𝘵𝘪𝘰𝘯. 𝘚𝘵𝘢𝘺 𝘤𝘢𝘭𝘮. 𝘝𝘢𝘭𝘶𝘦 𝘺𝘰𝘶𝘳 𝘱𝘦𝘰𝘱𝘭𝘦". The event also fostered connections and networking opportunities. Thank you to SMRT Corporation for hosting us, and to the Group CEO, Mr Hoon Ping Ngien for sharing his insights with our members. And to Mr. Erwan Barre for his great moderation. Thank you to all the participants for making this event a huge success!