Event report
Past Event | Current Trends of the M&A Landscape in Asia: Keys to a successful M&A transaction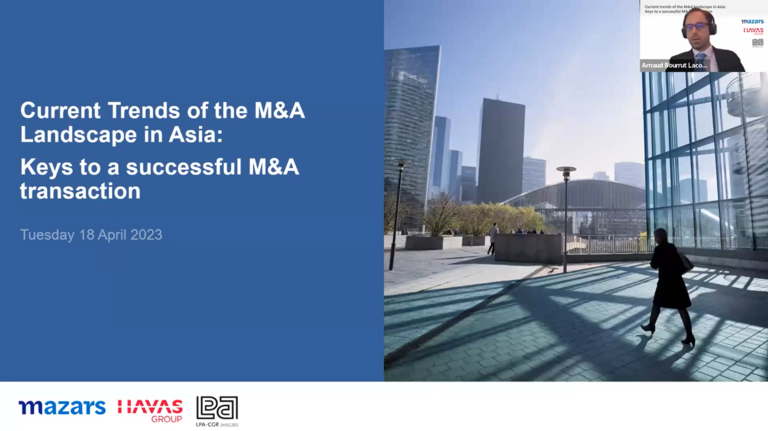 Thank you to our esteemed panelists - Mrs. Marie Mbaye, Head of Legal APAC at Havas, Mrs. Bérengère Roig, Partner at LPA Singapore, Mr. Nicolas Vanderchmitt, Partner at LPA-CGR avocats Hong-Kong, Mrs. Fanny Nguyen, Partner at LPA-CGR avocats Shanghai, Mr. Jean-Francois Salzmann, Managing Partner at Mazars in Japan, Mrs. Najla Belkhoja, Director at Mazars in Hong Kong, Mr. Laurent Nguyen, Partner at Mazars in Vietnam, Mr. Hong Chuan Goh, Director at Mazars in Singapore, Mrs. Cindy Cheung, Partner at Mazars in China (Shanghai) for leading a very insightful discussion on M&A trend landscape in Asia.
Special thanks to Mr. Thomas Chen, Head of Accounting and Outsourcing services at MAZARS China and Mr. Arnaud Bourrut Lacouture, Partner at LPA-CGR avocats Singapore for skilfully moderated the webinar.
Key takeaways of the session:
Strategic M&A transactions in Asia are key to addressing post-pandemic challenges and finding new paths to profitability since real synergies exist between the different markets. By complementing each other, Asian markets can build a solid foundation for renewed economic growth.
Cross-border deals require thoughtful negotiations from the LOI discussion up to determining the best pricing mechanism. As the balance of power between purchasers and sellers in ASEAN jurisdictions has regional specificities, seeking the assistance of local legal counsels is therefore essential.
Asia is a region where differences in organizational cultures, work styles and local regulations are significant. Putting in place a solid business plan to guide the post-merger integration is the final key deal milestone for the merger to be deemed a success.
This event was organised in partnership with The French Chamber of Commerce in China, The French Chamber of Commerce in Japan and The French Chamber of Commerce and Industry in Hong Kong.
For more information, please contact Vanessa Hobbs vhobbs(@)fccsingapore.com