Event report
Past Event | Future of Floating Solar and Wind Solutions: Innovations and Opportunities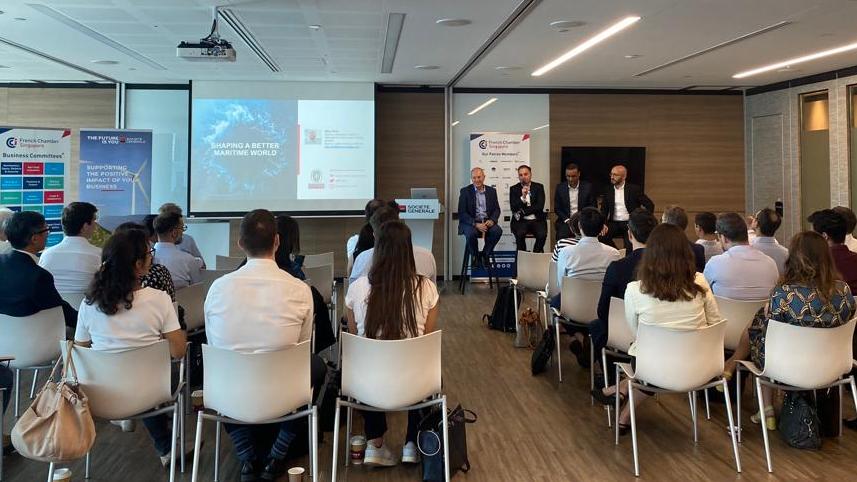 The French Chamber of Commerce in Singapore organised an informative session on Future of Floating Solar and Wind Solutions at Societe Generale's Singapore office on 21st June.
Thank you very much to our esteemed speakers: Mr. Cedric Chatel, Managing Director, Energy Finance & Advisory at Societe Generale; Mr. Abhishek Kumar, Head of O&M and Asset Performance at TotalEnergies Renewables DG Asia; Mr. Mike Watt, Director - Innovation Centre of Alternatives and Renewable Energy (iCARE) at Bureau Veritas Group; and moderator Mr. Philippe Wind, Operating Partner at CDPQ and Board Member of the French Chamber of Commerce in Singapore for an enlightening session.
Our panellists shared case studies on the latest developments in both floating solar and wind technologies in the Asia Pacific region; They also exchanged about some major criteria that lenders and investors are looking on such projects; main challenges and benefits of floating solar and wind; the impact of the technologies to the environment including biodiversity concerns; as well as their view on the development of the technologies in the future etc.
Key Takeaways:
Floating PV has remarkable benefits such as reducing land usage conflict and evaporation rate; synergies with hydro power plant; algae control due to reduction of sunlight penetration; and increasing energy yield due to cooling effect of water
Floating Solar opens up new opportunities for scaling up solar generation capacity, especially in countries with high population density and competing uses for available land
At some large hydro power plants, covering just 1-4% of the reservoir area with floating PV could double the installed capacity
Floating Offshore Wind Turbine requires a number of standards, procedures and rules. There are different foundation types by category including Semi-Submersible, SPAR, TLP and Barge and each one has its benefits and challenges.
Transportation of the Floating Offshore Wind unit requires careful calculations, competence, and safety. The FOW industry is still at the pre-commercial stage to date, existing vessels such as AHTS (Anchor Handling Tug Supply) are being used to install FOW turbines. It is likely in the future that vessels will be built specifically for this purpose or being retrofitted, followed by an increasing growth in Floating Offshore Wind.
Thank you again to Societe Generale for hosting our members at their premises!
For more information about the Energy & Infrastructure Committee, please contact Emily Jiang ejiang(@)fccsingapore.com.