Event report
Past Event| Inspirational Women Leaders' Series #6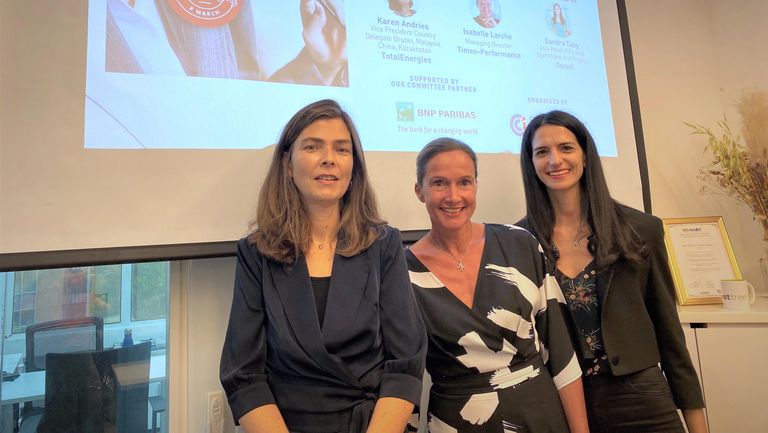 In celebration of the International Women's Day, we were delighted to welcome our esteemed speakers, Karen Andries , Vice President Country Delegate Brunei, Malaysia, China, Kazakhstan at TotalEnergies and Isabelle Larche, Managing Director at Timeo-Performance, for Inspirational Women Leaders' Series.
Thank you very much Karen and Isabelle for being both inspirational and genuine in sharing their career highlights as well as their challenges and aspirations for women in leadership.
Thank you also to Sandra Tang, Asia Head of Finance Operations and Projects at Sanofi, for skillfully moderating the session.
Please find a few key takeaways below:
Emotional intelligence is key to being a great leader
Leading by example and be present when you are work and at home. Use "time-boxing" to help prioritise your days and at work, focus on what will positively impact the business the most. The rest can wait.
Women are their own greatest barrier towards their path to leadership. Support yourself with a network of mentors and coaching to help find your strengths and weaknesses and overcome these barriers.
Leaders need to commit to self-care so it can positively impact their teams.
This event was kindly supported by our Committee Partner BNP Paribas.
For more information about Women in Business Committee, contact Vanessa Hobbs vhobbs@fccsingapore.com.