Event report
Past Event | Manage Your Emissions with the Carbon & Emissions Recording Tool (CERT)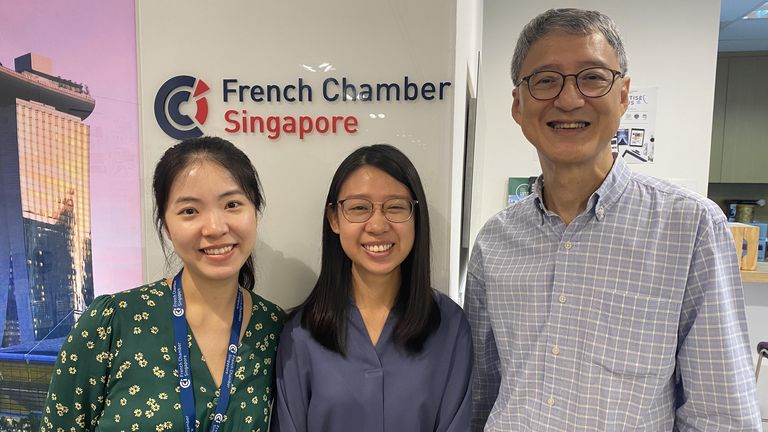 The French Chamber of Commerce in Singapore, as a member of the United Nations Global Compact, was honoured to invite Global Compact Network Singapore (GCNS) to share with our members about how companies can use their Carbon & Emissions Recording Tool (CERT) to measure their carbon emissions easily.
Our sincere thank you to the esteemed speaker: Mr. Terence Tan - Director, Carbon Management of Global Compact Network Singapore, for an interesting session on the Carbon & Emissions Recording Tool (CERT) and LowCarbonSG programme, as well as how businesses can achieve the LowCarbonSG Logo to gain recognition for their emissions-conscious efforts.
Key Takeaways :
Why should we care about Climate Change? 1) Companies can save money (by reducing travels and using equipment that is energy efficient for example). 2) It is about company's future. 3) You can get greater access to Green Financing.
LowCarbonSGis a nationwide capability-building programmethat enables businesses to develop the habit of measuring, tracking, and managing their carbon emissions using the Carbon & Emissions Recording Tool (CERT). Companies that successfully measure and monitor their carbon footprints will receive the LowCarbonSG Participant Logo.
CERT is an easy-to-use tool for local companies to monitor and manager their emissions. It was developed with input from National Environment Agency (NEA), with inhabit formulae for emissions calculation. It is robust to suit companies from varying sectors and sizes.
This event is kindly supported by our committee partner ENGIE.
For more information about Sustainable Business committee, please contact Emily Jiang ejiang(@)fccsingapore.com.