Event report
Past Event | OUTLOOK 2024 - Economic, Financial and Political Trends in Asia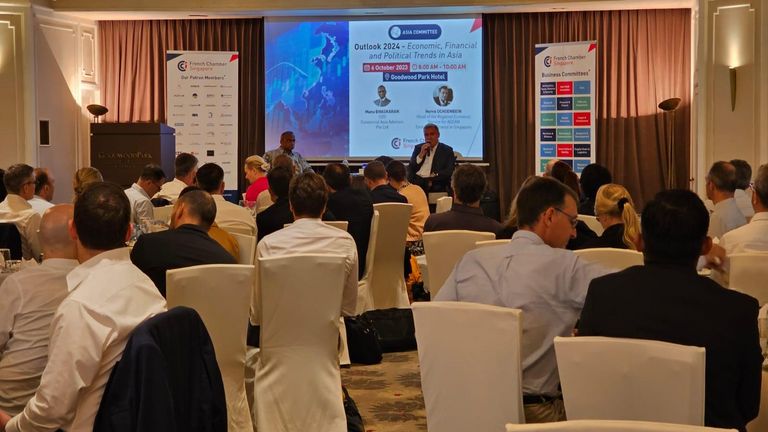 The French Chamber of Commerce organised a must-attend breakfast talk that delved into the economic, political, and financial trends in Asia for 2024.
This informative session featured two expert economists Mr. Manu Bhaskaran, Partner at Centennial Group International and Founding Director/CEO of Centennial Asia Advisor, along with Mr. Hervé Ochsenbein, Head of the Regional Economic Service for ASEAN at the French Embassy in Singapore.
Key takeaways of the talk:
China is on a path of stabilization but still faces significant challenges. The country's economic performance will substantially impact the global economy.
The era of monetary tightening is approaching its end, providing some relief for global financial markets. However, the lasting effects of previous tightening measures are a concern.
Global demand has displayed resilience, but the question remains whether this resilience can be sustained in the face of various economic uncertainties.
Sino-scepticism continues to influence economic policies outside of China, shaping international economic relations and strategies.
China is increasingly focusing on economic security and is adopting a more inward-looking approach to safeguard its economic interests.
China's approach towards Taiwan appears to be one of slow strangulation rather than an outright military invasion, maintaining a delicate geopolitical balance.
Southeast Asia is positioned to regain its status as a magnet for global investment, driven by infrastructure development, trade openness, digital and green transitions, and a growing middle-class urban population.
A warm thank you to our esteemed speakers Mr. Manu Bhaskaran and Mr. Hervé Ochsenbein for their insightful presentations and the fruitful discussions they engaged with the audience.