Event report
Past Event | Sustainable Business and Technology in Space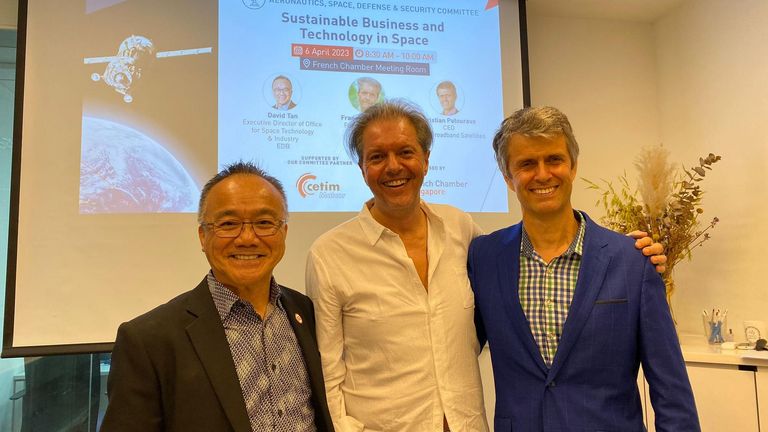 The French Chamber of Commerce in Singapore was honoured to organise a committee meeting with our esteemed speakers: Mr. David Tan, Executive Director of Office for Space Technology & Industry at EDB; Mr. François Dubrulle, Founder and CEO at Qosmosys and Mr. Christian Patouraux, CEO at Kacific Broadband Satellites. They shared about what are the latest technologies and innovations that are being developed in the Space industry for a more sustainable and responsible business, what are the main challenges, and the importance of collaborations and partnerships in promoting sustainability and responsible conduct in the space industry.
Highlights and key takeaways of the session:
Singapore's four main pillars for growing space economy: space technology, partnerships, developing talents and encouraging satellites programmes.
There is a 67% of future demand in number of satellites driven by 75 commercial constellations.
On average, 990 satellites to be launched every year by 2028.
New researches and missions on the Space-for-Space applications enable a new era from in-orbit servicing to debris removal.
Sustainability in the space industry for a business owner means to maintain and endure – "the art of surviving first" so you can give back to the society.
Space technology can be essential to people's life as it transforms lives and empowering people with expanding connectivity.
This event was kindly supported by our Committee Partner: Cetim Matcor
For more information about the Aeronautics, Space, Defense and Security Committee, please contact Emily Jiang: ejiang(@)fccsingapore.com