Event report
Past Event |Winning Online in Asean!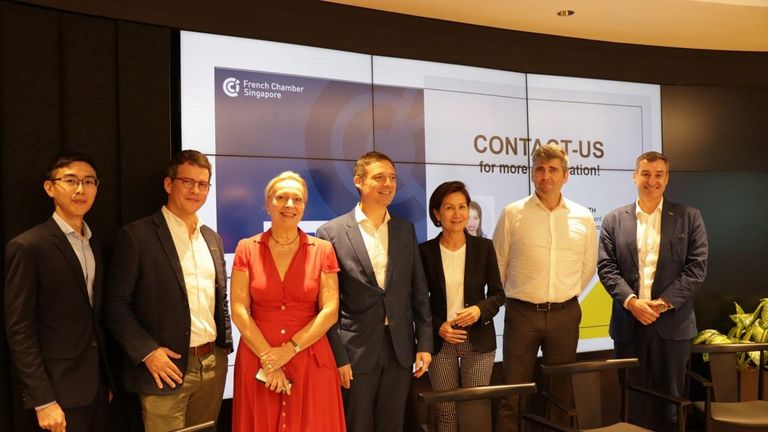 The French Chamber of Commerce in Singapore along with Les Conseillers du Commerce Extérieur (CCE) and in partnership with the Economic Development Board (EDB) in Singapore organised an exclusive panel discussion around the e-commerce landscape in ASEAN with Olivier Gergele, EY-Parthenon Partner, APAC Consumer Goods & Retail leader, Brigitte Daubry - Group Chief Customer Officer, Lazada- Alibaba Group, Brandon Chia - Regional Director (designate) Brand, Marketing and Communications at EDB, Gildas Chambrelan – VIP International Sourcing at Redmart, Loïc Rigaud - Asia Sales Director at Lyreco and Joris Bernard, Managing Director Southern Asia Savencia F&D.
Olivier Gergele presented the overall online landscape in Asean and described consumers' needs in online commerce including a few points about a new generation of digital consumers emerging, and how leading players can rethink to best serve them.
Brigitte Aubry along with Gildas Chamberlain, described Lazada's digital strategy to engage their customers.
Brandon Chia from The Economic Development Board (EDB) explained why the SEA market is attractive for online players to expand in Asean. Brandon also shared tips for European companies looking to expand into Southeast Asia's e-commerce landscape and how can Singapore support companies in expanding to Southeast Asia and what are the opportunities within the region to explore.
Finally, Loïc Rigaud shared Lyreco's key success factors of winning online in the ASEAN region.
Thank you to Joris Bernard, Managing Director Southern Asia Savencia F&D for participating in the panel discussion and providing delicious nibbles for our guests.
A special thanks to EY for hosting the event.
For more information, please contact Agate Wack awack@fccsingapore.com