Companies news
Paycoin announces strategic global payments partnership with TripleA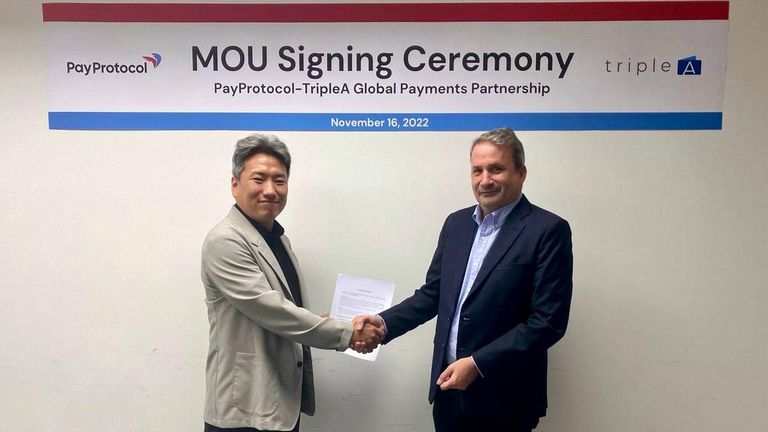 'Paycoin', a crypto payments company that has successfully introduced crypto payment services to more than 3 million users and 150,000 merchants in Korea, has kickstarted its expansion into the global crypto payments market through a partnership with 'TripleA'.
'Payprotocol AG', the issuer of 'Paycoin (PCI)' announced a partnership (MoU) with 'TripleA', a licensed crypto payments company, to collaborate on building a global crypto payments ecosystem.
This partnership will commence with enabling all Paycoin users to pay with PCI to TripleA's merchants. Payprotocol AG and TripleA will work ­closely ­with ­government ­bodies ­and­ global ­financial regulators to ensure full compliance with anti-money laundering regulations.
'TripleA', established in 2017, is a crypto payment company that allows businesses to pay and get paid in digital currencies, volatility free. TripleA's roster of clients includes Razer, Charles & Keith
Paycoin has expanded into Singapore as its first global market due to the strong crypto regulatory frameworks available in Singapore. Singapore is one of the few countries that has implemented detailed regulations around crypto-based businesses. As a fully licensed digital payment token service provider in Singapore, TripleA's partnership will enable Paycoin to build a payment system to be used globally, as it has built for the Korean market.
"Paycoin was founded as Danal is aiming to create a global payment network. With this partnership, we will continue to maximize the benefit of blockchain technology, and build a global payment network around Paycoin. Furthermore, we will also create a regulated and licensed environment for our partners to operate within, to ensure that we will not be used as a vehicle for illicit activities like money laundering," PayProtocol CEO Ryu said.
"TripleA is happy to partner up with Paycoin as its global payments provider". Eric Barbier, CEO of TripleA shared, "This is a mutually beneficial partnership that will connect PayProtocol with merchants globally, and also give TripleA keen insights into the Korean market."
SOURCE : Financial IT