Companies news
Pernod Ricard and ecoSPIRITS launch closed-loop distribution pilot in Singapore, eliminating more than 60% of carbon emissions1 and 95% of packaging waste in the first six months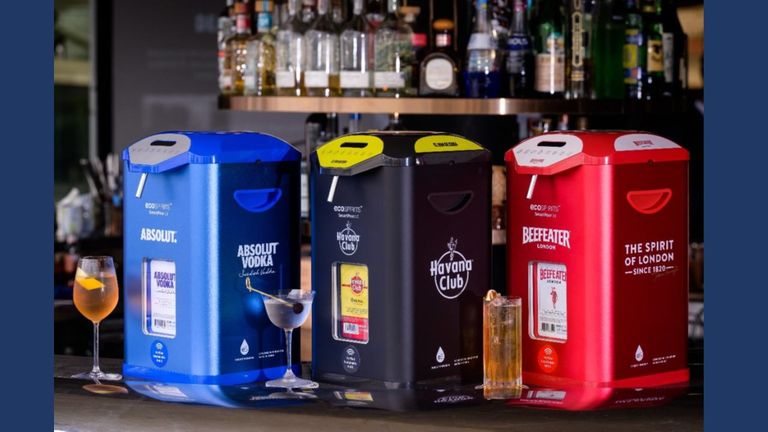 The pilot program will see Absolut Vodka, followed by Beefeater London Dry Gin, and Havana Club Rum delivered in ecoSPIRITS' award-winning closed loop technology to a target of 30 bars in Singapore.
• Three of Asia's best bars – MO Bar, Republic Bar Singapore, and Smoke & Mirrors – will be among the first to receive these ecoTOTES and will be serving inventive, sustainably crafted cocktails during the pilot program.
SINGAPORE, 4 OCTOBER 2022 – Pernod Ricard, the world's second largest wine and spirits company, and ecoSPIRITS, a circular economy technology company, have officially launched a pilot program that will deploy an innovative closed-loop distribution system. This is a world-first for a global brand portfolio, with Singapore as the launch city.
With a target of 30 bar partners, the pilot program is estimated to eliminate more than 4,400kg of glass waste and save more than 3,400kg of carbon emissions in the initial six months – equivalent to around 80 flights for a passenger from Singapore to Kuala Lumpur.
In addition, through the ecoSPIRITS Forest Program – one tree will be planted for each cycle of an ecoTOTE used by our bar partners. Over the course of the pilot program, an estimated 1,440 trees will be planted during the pilot, offsetting the carbon impact of beverage operations to a greater extent, and raising the total positive carbon emissions impact of the Singapore pilot program by another 31,500kg yearly.

This launch further cements Pernod Ricard's position as an industry leader and pioneering force in sustainability. By adopting a truly circular mindset with this innovative distribution pilot, the Group is charting bold progress in their commitment to Circular Making, one of the four pillars of its 2030 'Good Times from a Good Place' Sustainability & Responsibility roadmap, which supports the United Nations Sustainable Development Goals and addresses all aspects of the business, from grain to glass.
Pernod Ricard's Premium Spirits in ecoTOTE Format
Glass is infinitely recyclable. However, a study by the National Environment Agency of Singapore shows that less than 13% of the glass is recycled in the country and the rest is sent to landfills. The partnership with ecoSPIRITS marks a first step for Pernod Ricard to address this challenge.
As part of the pilot program, three of Asia's best bars in Singapore will be among the first to receive Pernod Ricard's premium spirits – starting with Absolut Vodka, and followed by Beefeater London Dry Gin, and Havana Club Rum – in the patent-pending ecoTOTE format, a fully reusable 4.5-liter glass container, which offers tracking and supply chain authentication among other smart features.
Guests at the award-winning MO Bar, Republic Bar Singapore, and Smoke & Mirrors can look forward to inventive, sustainable cocktails available on their usual and shadow menus, and specially crafted from spirits distributed via the ecoTOTE. Once empty, the ecoTOTE will be returned to a Singapore-based ecoPLANT, where it is sanitized and refilled, in line with quality standards of leading international distilleries.
Distributing spirits via ecoSPIRITS' closed-loop system will eliminate more than 60% of carbon emissions when compared with traditional glass bottles. This works out to an average of 30g of carbon emissions saved per spirit pour or cocktail, emphasizing how sustainable drinking choices can lead to small but important changes.
This pilot program comes under the Bar World of Tomorrow initiative launched by Pernod Ricard, Trash Collective and the Sustainable Restaurant Association in 2020 with the ambition to create a more sustainable and responsible bar world. In Singapore, a series of workshops dedicated to helping bartenders operate their businesses sustainably has been launched earlier this year, attended by forty bartenders in the city.
Adding another layer of support to bar operations, Pernod Ricard and ecoSPIRITS have unveiled three co-branded SmartPour™ 2.0S editions. This new generation, intelligent dispense unit from ecoSPIRITS completely encloses an ecoTOTE 3.0S. Designed for look and functionality, the SmartPour™ 2.0S can be placed at front-of-house environments and provides accurate, one-button spirit pours of 30ml, 45ml and 60ml volumes for direct service, as well as the options of 700ml, 750ml or a continuous pour for sustainable refill of branded spirit bottle.
Supporting Singapore operations, local distribution company Drinks Fellas will be the exclusive distributor of Absolut Vodka, Beefeater London Dry Gin, and Havana Club Rum in the ecoTOTE format for the pilot period. Drinks Fellas joins a growing global coalition of importers, distributors, and wholesalers, who are licensed for closed loop distribution using ecoSPIRITS' technology.
On the Launch of the Pilot Program in Singapore
Jean Touboul, Managing Director, Pernod Ricard Southeast Asia said, "We're thrilled to start this journey with ecoSPIRITS to create more sustainable and responsible moments of conviviality. Today's launch marks a key milestone in our commitment to circular making and distribution, which is at the heart of our 2030 Sustainability & Responsibility roadmap, Good Times from a Good Place."

"With the highest density of the world's best bars in Asia, and an increasing number of sustainability conscious drinkers, Singapore is the perfect location to launch our pilot program. We're very excited to have the support of Smoke and Mirrors, MO Bar and Republic Bar, 3 award winning bars in Singapore, and glad that we all share the same vision, for a more sustainable and responsible bar world of tomorrow. Looking ahead, we hope more bars and restaurants will join us on this circular distribution journey across Asia and the world." Touboul continues.

Paul Gabie, CEO, ecoSPIRITS adds, "Singapore is home to a celebrated bar scene with a growing crop of sustainable concepts and eco-conscious consumers. It's also where the ecoSPIRITS' own journey began back in 2018. So, for us, there's no better place than Singapore to launch our first pilot program with Pernod Ricard. Through this first-of-its kind partnership with a global brand portfolio, we hope to inspire more industry leaders and players to make the transition to the circular economy. We believe that this is an effective lever on our road to a circular economy and a significant step towards a low carbon revolution."
1 Associated with packaging and distribution. Source: ecoSPIRITS Carbon Calculator.

For more information, please visit:
• Pernod Ricard website to find out how the company is accelerating towards its 2030 Sustainability & Responsibility roadmap "Good Times from a Good Place".
• Bar World of Tomorrow website (best on mobile) to learn more about how the company is working towards its ambition for a more sustainable and responsible bar scene.
Playing Up the Citrus with these Sustainably Crafted Cocktails
JOURNEY BY MO BAR
Beefeater London Dry Gin, Dehydrated Citrus Tea, Spices
Journey is inspired by the travels made during the early traders in Asia. Citrus and spice were some of the first items to be traded, initiated during the Galleon trade. For this drink, leftover citrus is dehydrated, turning it into a tea by combining with discarded tea from the bar's Hi Tea operations to add more flavour. This refreshing concoction is then married with Beefeater London Dry Gin and carbonated. Every sip of Journey is a chance to rethink your usual drinking choices and an opportunity to enjoy a classic G&T in a more sustainable way.
SUNDAY SPRITZ BY REPUBLIC BAR SINGAPORE
Absolut Vodka, Citrus Stock, Lillet Blanc, Chartreuse Jaune, London Essence Peach & Jasmine Soda
Sunday Spritz is a refreshing drink, perfect for a lazy afternoon during the weekend. Citrus fruits are usually used only for their peels and juice. After that, they often end up in bins as they're an organic product with high acidity and not ideal for composting. To minimize waste, Republic Bar makes a stock of all-purpose substitute acid, which works wonderfully when mixed with Absolut Vodka in the Sunday Spritz.
LACQUER-TINI BY SMOKE & MIRRORS
Havana Club 3 Rum, Jasmine Verte, Acid, Sugar
A celebration of harmony, Lacquer-tini embodies the fourth principle of art – balance – with its perfect harmony of herbal and botanicals. Drawing muses from the lacquer-style painting of Nguyen Gia Tri's The Landscape of Vietnam, Lacquer-tini scrutinizes the complexity within creations, a tedious process that often goes unseen. Don't be deceived by its clear appearance as well. Besides botanical and floral notes, this cocktail packs a punch with a dash of citric acid in place of regular juice, as it's shelf stable and reduces the wastage of citrus fruits.