Companies news
REIDS-SPORE set for inauguration end November 2020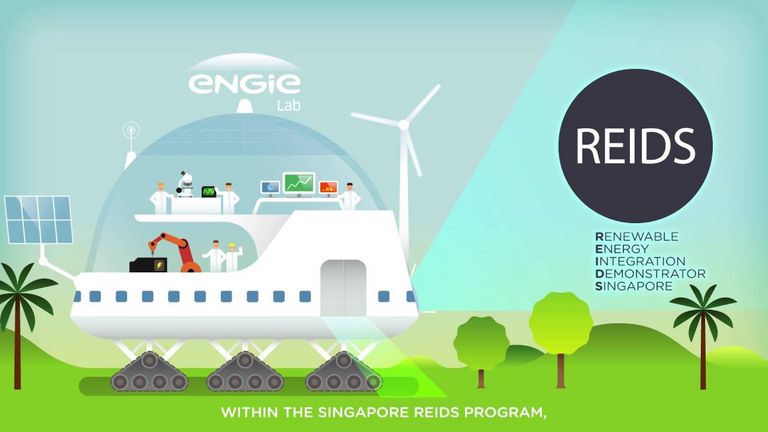 The REIDS-SPORE inauguration will take place on Wednesday, 26 November 2020. The REIDS-SPORE platform will be fully operational end of October 2020 and the ENGIE Lab Singapore team will be showcasing this project during the Singapore International Energy Week's Energy Insights session.
The platform, done in collaboration with the Energy Research Institute at the Nanyang Technological University since 2016, is dedicated to designing, demonstrating and testing solutions for sustainable and affordable energy access-for-all in South East Asia.
More about REIDS:
The Renewable Energy Integration Demonstrator - Singapore (REIDS) is a Singapore-based R3D (Research, Development, Demonstration and Deployment) platform dedicated to designing, demonstrating and testing solutions for sustainable and affordable energy access-for-all in Southeast Asia as well as the future of urban electricity distribution. REIDS fosters systemic research and development in the broad energy arena in support of Singapore corporate and public stakeholders, thereby strengthening their position on the rapidly growing renewable energy and microgrids markets.
The REIDS technology-roadmap that was originally conceived in 2015 to be built on a Technology-Systems tripod : (a) renewable energy sources, (b) energy storage systems and (c) integration by way of microgrids under the control of intelligent and adaptive energy management systems, later incorporated the fourth pillar of interconnection of the microgrids on a bi-directional electrical network and comprehensive ICT network (called Low Voltage Micro Grid Cluster – LVMGC) to produce the most unique testbed of its kind in the world in 2019.
This unique concept allows the REIDS initiative to feature the following four types of collaborators:
Independent Microgrid Operator
Cluster Microgrid Operator
Software System Operator
Hardware System Operator
As of date, REIDS engages with about 20 collaborators from across the world to host 5 microgrids along with the core electrical and ICT infrastructure under operation / testing. The testbed expects to add at least 3 more microgrids along with many more collaborators in the coming years.
The REIDS LVMGC testbed provides an ideal and unique location for a number of research and development activities which include:
Interoperability study of multi-microgrid networks
Cybersecurity of electricity distribution systems
Energy trading between different microgrids
Power Grid dynamics study and evaluation
Distributed Energy Resource Management Systems
Resiliency and Reliability study of electrical distribution network
Along with the research and development, the testbed also provides the partners unique opportunity for demonstration of their technologies as the facility is continuously visited by companies as well as decision-makers from all across the globe.
The microgrids deployed in the testbed are capable of catering to real loads. Currently, REIDS project supplies approximately 200 kWh of electricity on average to NEA facility on Semakau daily and envisages supplying all of NEA's as well as Barramundi Asia Pte Ltd(a fish nursery on Semakau)'s electricity requirement.
For more information, visit Engie SEA