Event report
Responsible Innovation as a path towards sustainability' ESSEC - FCCS Leadership Series Partnership #3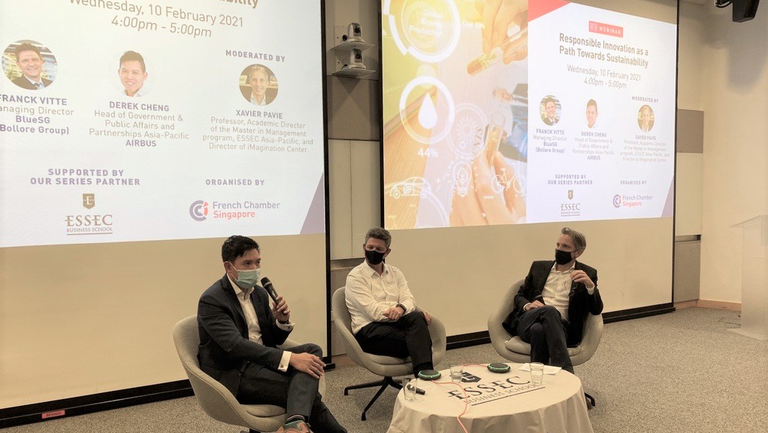 When the limits on human progress are ever-decreasing, and the consequences of human actions have never been so critical to predict and manage, the responsible nature of innovations has acquired whole new importance.
Firms now need to find the appropriate balance between achieving positive growth and performance while integrating the concept of responsible innovation at the very core of innovation strategies and processes.
In this third installment of the ESSEC-FCCS Leadership series, Prof. Xavier Pavie moderated a panel discussion on Responsible Innovation as a path towards sustainability with experts Derek Cheng, Head of Government &Public Affairs & partnerships in Asia-Pacific at AIRBUS and Franck Vitte, Managing Director, BlueSG (Bollore Group).
Their discussion explored the process for implementing a responsible innovation in an organization while improving performance and sustainability; how to innovate sustainably and the need to re-evaluate the supply chain ecosystem to address the environmental impact of disruptive innovations; as well as the need to consider the impact on humanity and societies (for example, as technology progresses, we have become acquainted with topics like genetic modification and cloning).
Thank you all for joining the session. The recording can be viewed below (for members only).
Access the speaker's presentation (Only for members)