Analyses & Studies • Publications
Roquette is reimagining local Asian dishes with healthier, more sustainable plant protein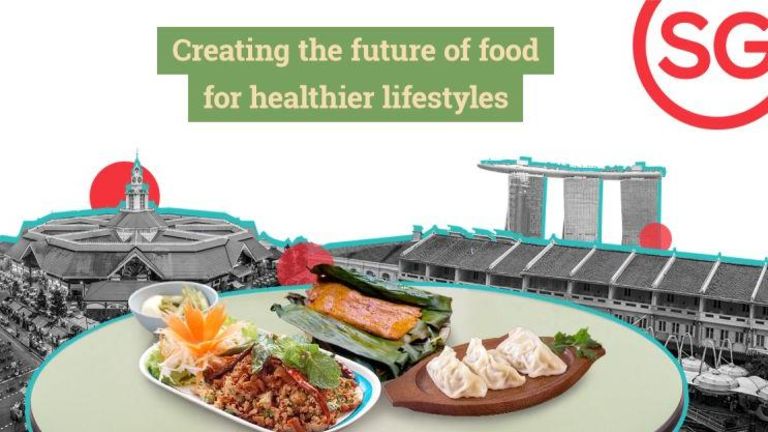 This article was first published by The Economic Development Board of Singapore.
Demand for alternative proteins is rising in Asia. Global plant-based ingredient maker Roquette is serving up agrifood solutions that are not only localised for Asian tastebuds, but also helping consumers create healthier, more sustainable lifestyles with its innovation centre in Singapore.
"There is an increasingly wide array of plant-based product offerings in the past year, and Asia is fast catching up with Europe and North America in terms of products with plant protein offering," says Yvan Chardonnens, Regional CEO, Roquette in Asia Pacific.
"The booming middle class and growing awareness towards health throughout Asia are one of the key drivers for this", he adds.
According to PwC, Rabobank and Temasek, the region is now the largest consumer market for food, with an additional S$5.9 trillion (US$4.4 trillion) in spending expected by 2030—and 55 per cent of this increase will be directly driven by consumer choices.
Faced with health and food security concerns, Asian consumers are turning towards plant-based proteins. For Roquette, a global leader in plant-based ingredients, this is the perfect opportunity to not only serve a fast-growing market, but also meet consumers' goals for healthier and more sustainable diets.
"Our goal is to unlock the potential of nature for healthier futures through our research in food, nutrition and health sectors. Singapore can support us because it offers robust collaboration opportunities and shares our conviction in helping to feed people better." - Yvan Chardonnens, Regional CEO, Roquette in Asia Pacific
Serving up plant-based Asian cuisines
When Roquette started growing its operations in Asia, the French multinational company understood that the way to win consumers' stomachs is through dishes close to their hearts. "Along with better health outcomes, consumers are also looking for authentic and delicious food experiences," says Yvan. This meant looking at local and regional favourites.
Already offering the world's largest range of pea protein—a key ingredient in plant-based products—Roquette doubled down on localising their offerings in food products familiar to Asian tastebuds, such as samosas, gyozas, noodles and spring rolls.
The company is innovating such solutions from its Asia Pacific headquarters and Innovation Center in Singapore. It currently houses applied sciences lab facilities, a biopharma centre of excellence and a customer technical services (CTS) centre for its pharmaceutical ingredients, as well as a CTS centre dedicated to food.
The food CTS centre allows Roquette to work closely with food industry customers, many of which have their regional base in Singapore, and to support and speed up product localisation in the areas of baking, dairy, confectionary, savoury and specialised nutrition segments.
"The ecosystem in Singapore fosters close collaboration with like-minded organisations to develop customised innovations in food, nutrition and pharma segments much easier." Yvan Chardonnens, Regional CEO, Roquette in Asia Pacific
Examples of local dishes created using plant protein from Roquette: scroll to see the ingredients used, including the main ingredient of texturized pea protein (center). (Images courtesy of Roquette Asia Pacific Pte Ltd)
A recipe for innovation
Singapore is strengthening its food security with several initiatives and brings together the world's leading companies in agrifood, such as Swiss food companies Bühler and Givaudan, which recently opened a Joint Protein Innovation Centre dedicated to plant-based food, and Eat Just Inc., which will produce plant-based eggs from its first-in-Asia production facility here.
This proximity to global players and regional startups as well as local research institutions and universities like A*STAR and the National University of Singapore makes the city-state a prime choice for Roquette to innovate and anticipate the needs of today's sophisticated Asian consumers.
The Republic also adds to the mix a ready pool of skilled talent. He adds: "Singapore is among the top countries for attracting, growing and retaining global talent. Having our regional headquarters here allows us to draw on this impressive talent pool to further advance our ambitions in the region."
In just a span of four years, Roquette has doubled its employee base to more than 80. The company also takes on a steady stream of interns with food science pharmaceuticals and biopharmaceutical backgrounds from National University of Singapore, National Nanyang Technological University, Singapore Polytechnic and Singapore Institute of Technology at its Innovation Center.
Feeding the future
Close to market, ready collaborators, and skilled talent: with Singapore providing these key ingredients, "Roquette is well positioned to imagine and offer innovative solutions to translate the interest in plant-based ingredients into tasty cuisines that both fit the Asian palate and respond to public health concerns unique to Asia", shares Yvan.
The company draws on its long history of innovating in plant-based ingredients since the 1930s to invest in research and development to enable healthier lifestyles and promote sustainability. Food producers in Asia are starting to discover the opportunities for alternative proteins, but Roquette believes that plant proteins are more than just trends and tastes—it is an important way to feed the future.
"We see a great synergy with Singapore's 30-by-30 target from a food resilience and sustainability point of view. We want to be part of that journey and have a role in building a stronger Asian food story by developing productive, innovative and sustainable options for consumers." - Yvan Chardonnens, Regional CEO, Roquette in Asia Pacific