Safran Landing Systems in Malaysia goes green with solar carpark from Cleantech Solar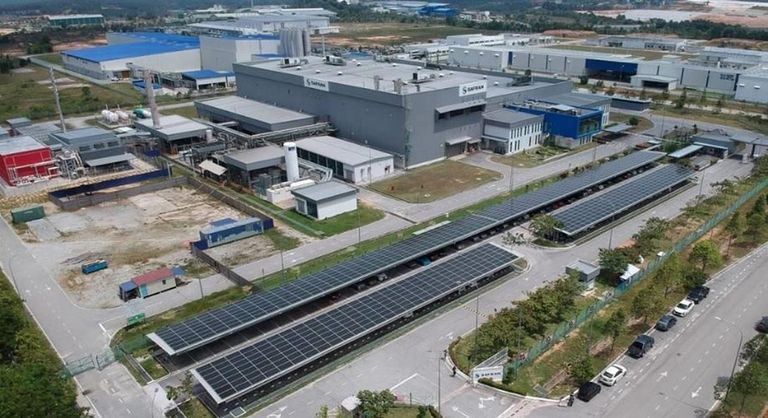 The state-of-the-art carport PV system was recently commissioned successfully, designed, built and operated under a long-term agreement with Cleantech Solar.
Malaysia, Sendayan, 29 October 2019 – A 350 kWp carport solar PV system at the Safran Landing Systems plant in Sendayan Techvalley, Malaysia, has been commissioned by Cleantech Solar under a long-term agreement where Cleantech Solar has funded and built, and will operate and maintain the system throughout its life. The car park is only the first step of Safran's vision and commitment to go "green" in Malaysia, the second step will be to fully cover the large building's roof of the site with solar panels, allowing Safran to further replace the use of electricity from fossil fuels to renewable sources to power their internal plant operations.
Kenny Chang, Managing Director of Safran Landing Systems said: "The launch of this project underscores our commitment to reduce our environmental footprint by sustainably managing our production facility in Malaysia. Based on high-efficiency solar modules, the outcome of the project has exceeded our expectation. Not only does our staff now benefit from cooler cars when they end their shifts but now, we also have a sizeable amount of self-generated clean electricity and increased energy savings. Our team is extremely pleased with the partnership with Cleantech Solar on this successful project. This makes our high-tech plant in Sendayan Techvalley even more sustainable."
Raju Shukla, Founder and Executive Chairman of Cleantech Solar said: "We are delighted to have Safran, one of the world's leading aerospace groups, join our growing family of operating sites in Malaysia. In the business of solar, trust can only be built on a company's ability to deliver over the long-term and this successful collaboration with Safran was built on our track record and the strong team that we have been able to build over the last few years in Malaysia. Solar carport projects are always a challenge, but I am very pleased to see such a successful outcome that both the Safran and Cleantech Solar teams should be very proud of."
Press release source: https://cleantechsolar.com/safran-carport-solar-malaysia/