Companies news
Saint-Gobain, Leading Building Materials And Construction Company, Opens New Plant In Malaysia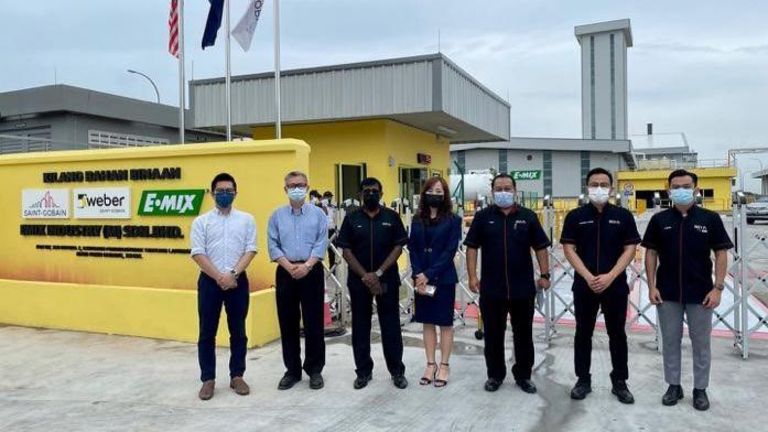 Saint-Gobain strengthens its position as a preeminent producer of advanced solutions for construction applications in Southeast Asia with the announcement of the opening of its 5th plant today, located in Johor, the southernmost state of Malaysia.
Constructed on over 50,000m² of land and built specifically to serve and commit to the growing Singapore and Malaysia construction markets, the facility caters to the production of a large variety of mortars, waterproofing and construction chemicals solutions. As a leading player in the construction industry, Saint-Gobain has spearheaded many complementary developments that support multiple industrial applications in the automotive, aeronautical, health, security, and protection, and even the food & beverage sectors.
The new factory is the 5th industrial complex in the group's more than 20-year history in Malaysia and the 28th in Southeast Asia. This expansion in the Asia-Pacific region constitutes one of the top priorities for Saint-Gobain as a future regional manufacturing hub and marks a significant milestone in supporting projected growth in ASEAN countries and beyond. Addressing the increased market demands and challenges, this latest addition to Saint-Gobain's footprint in Malaysia incorporates the best of the Company's technologies and manufacturing processes such as robotic palletizing, Industry 4.0, and Warehouse Management System at scale and with scalability. This new plant is also designed to produce 3D concrete printing solutions to advance their leading positioning in this new market segment.
Mr. Arham Abdul Rahman, Chief Executive Officer of the Malaysian Investment Development Authority (MIDA), commended Saint-Gobain's continued confidence in Malaysia. Commenting on the Company's latest expansion in Malaysia, he said, "The COVID-19 pandemic has highlighted the need to accelerate the adoption of digital technologies to be applied in the manufacturing of products. Given that research and innovation are at the heart of Saint-Gobain's strategy, we are excited to witness this latest undertaking here. We are confident that Saint-Gobain will further benefit from Malaysia's strategic location, comprehensive global trade agreements, competitive cost of doing business, multi-facetted talent pool as well business friendly policies."
In line with its focus on sustainability, inclusivity and environmental responsibility, Saint-Gobain has pledged to reduce its carbon dioxide emissions and achieve carbon neutrality by 2050 through investments in Industry 4.0, recycling, raw material reduction, and Carbon Capture Utilisation (CCU) technologies to reach this goal. In line with these efforts, the new plant will also replace natural gas usage with low carbon dioxide emission.
Mr. Javier Gimeno, Group Senior Vice-President of Saint-Gobain Group, CEO Asia-Pacific, said: "This investment in Johor is a tangible proof of the long-term commitment of Saint-Gobain with Malaysia and Southeast Asia. Indeed, we are convinced of the huge potential of development in these geographies whose markets are increasingly driven by innovation, technology, products' performance, and genuine respect of the environment. At Saint-Gobain we strive every day to excel in all these fields so that we can bring to our clients and the final users the best value proposition."
To learn more about Saint-Gobain (Weber-E.MIX), visit www.sg.weber
For media enquiries, please contact:
Regina Soejanto, regina@affluencepr.com,
+65 9430 7744
Silvia Tan, silvia@affluencepr.com,
+65 9890 2193