Companies news
Schneider Electric at A*STAR's SIMTech unveiling of the NEW Model Factory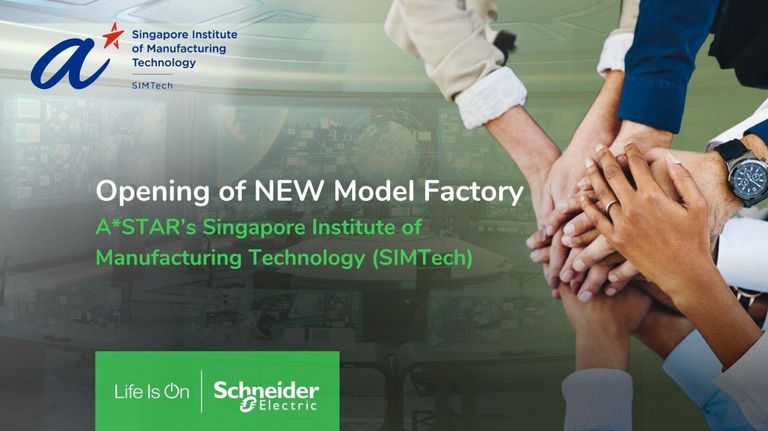 Schneider Electric announce its participation in A*STAR - Agency for Science, Technology and Research's Singapore Institute of Manufacturing Technology (SIMTech) grand opening of the NEW Model Factory today.

This signifies a major milestone as they showcase their commitment to co-innovating smart and sustainable manufacturing solutions.

During the tour, they showcased their co-innovation of circular manufacturing equipment highlighting the integration of hardware Cobot and software EcoStruxure Automation Expert (EAE). They focused on two key points:

1. Effective closed-loop manufacturing solutions for end-of-life products, are traditionally seen as tedious and costly. By implementing closed-loop manufacturing on a single machine to handle a family of products, we have improved return on investment (ROI).
2. Leveraging on Universal Automation, an open platform that offers plug-and-play capabilities for flexible and re-configurable solutions with minimal manual programming effort.

They are honoured to have Yoon Young Kim, Cluster President, Singapore & Brunei, shed light on the incredible benefits of working with SIMTech. He emphasized on how Schneider's solutions address sustainability challenges in the manufacturing sector:
"Through our collaboration with SIMTech Model Factory, Schneider Electric contributes a wealth of proven digitalization and automation technologies to co-innovate cost-effective solutions for sustainability challenges in manufacturing. Our Universal Automation enables rapid deployment of flexible and reconfigurable automation solutions with minimal manual programming effort, significantly reducing the time and cost between design and implementation."

Together, they are revolutionizing the manufacturing industry, driving sustainability, and shaping a smarter future.
SOURCE: SCHNEIDER ELECTRIC