Companies news
Schneider Electric commits S$16 million to build Singapore-based companies with global growth potential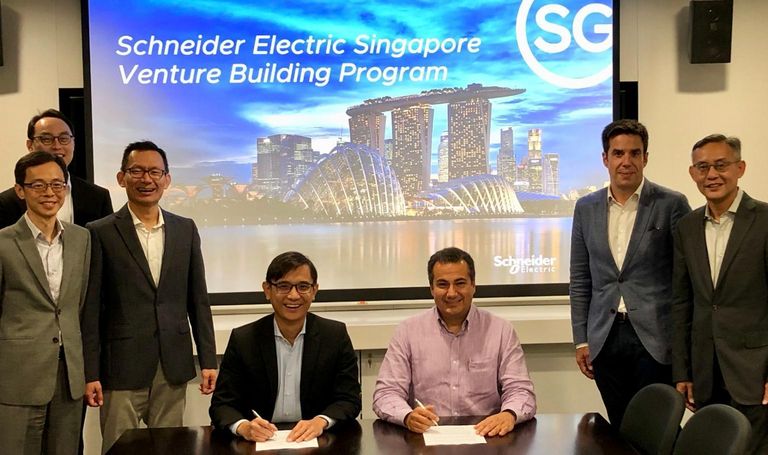 Schneider Electric's S$16M commitment over four years aims to build up to four Singapore-based companies with global potential. This investment targets companies tackling the global climate change challenge by harnessing technologies such as IoT, 5G, AI and robotics to build innovative solutions in areas such as energy-as-a-service, energy storage and smart buildings. Schneider Electric will offer its industry expertise, global market access and supply chain know-how to help selected companies go global.
Singapore, October 30, 2019 – Schneider Electric today announced a Memorandum of Understanding signed with the Singapore Economic Development Board (EDB) to create a new Venture Building Programme focused on creating new business ventures, and ultimately innovation and businesses in Singapore.
Schneider Electric will commit at least S$16 million over the next four years to incubate and develop Singapore-based companies which have strong global potential and ability to scale. It will also bring its expertise in energy management, industrial automation and digital transformation to help these companies go global. In addition, Schneider Electric will provide market access and its deep understanding of the global supply chain to take these companies to the next level.
"We are excited about this partnership to build new companies in Singapore," said Emmanuel Lagarrigue, Schneider Electric's Chief Innovation Officer. "Singapore is a hub for innovation and we look forward to working with talented entrepreneurs to build new technology and business models."
"We are pleased that Schneider Electric has chosen to establish its Venture Building Programme in Singapore," said Beh Kian Teik, Assistant Managing Director, EDB. "With this MOU, Schneider Electric's innovation activities in Singapore will be augmented, and is in line with EDB's goal of supporting corporates to build new ventures from Singapore."
The Venture Building Programme will target new ventures for solutions to some of the world's biggest problems; including how to fight climate change and transition the globe to renewable energy. New technology such as IoT, 5G, AI and robotics mean new opportunities to address growing markets such as distributed energy resources (DER), energy-as-a-service, electromobility, energy storage, and efficient heating, ventilation and cooling (HVAC).
This investment in Singapore is part of Schneider Electric's global innovation program which includes incubations, investments and partnerships, and aligns with the company's goal to combine external innovation with internal resources and people to rapidly transform how the world uses and generates energy.
Schneider Electric previously partnered with EDB, under the EDB SkillsFuture Leadership Development Initiative, to launch the Energy Generation Programme - X, a management trainee programme for Nanyang Technological University and National University of Singapore graduates.
Singapore is home to Schneider Electric's first carbon-neutral building in the company's global roadmap to convert all its thousands of facilities around the world into carbon-neutral buildings that fully run on renewable electricity by 2030.
The East Asia and Japan regional headquarters, Schneider Electric's first large-scale innovation hub in Asia, leads the company's regional efforts in research and development, and will complete its transformation into a carbon-neutral building by mid-2020.
Powered by Schneider Electric's own smart building management solutions, it is the first office building to qualify for a BCA Green Mark Platinum Award by the Building and Construction Authority for Existing Non-Residential Building Pilot Version 2017 and it has also been awarded the "Leadership in Sustainable Design & Performance (Commercial)" award by Singapore Green Building Council-Building and Construction Authority (SGBC-BCA) in September 2019.