Companies news
Schneider Electric recognised during Renewable Energy Markets™ Asia Awards for renewable energy leadership in Asia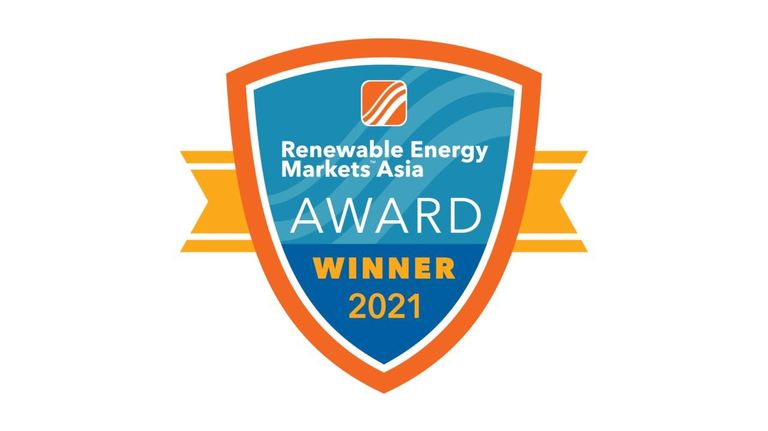 The Center for Resource Solutions (CRS), has recognised Schneider Electric, the global leader in the digital transformation of energy management and automation, for its leadership in building renewable energy markets and green power procurement in Asia.
"We're proud to honour Schneider Electric at the Renewable Energy Markets Asia Awards in recognition of its efforts in providing access to clean electricity throughout Asia," said Jennifer Martin, executive director of CRS. "By investing in environmentally sustainable companies that provide clean energy to communities that lack a reliable supply, Schneider Electric is doing its part to ensure equal access to energy throughout the region."
With the renewable energy landscape in Asia moving faster than ever before, the company's Energy and Sustainability Services division has recently established an office in Singapore to provide advisory services to companies with Asian operations. The trend towards decarbonisation, coupled with Southeast Asia's (SEA) thirst for innovation, is the driving force behind the company's expansion plans in this region.
While urbanisation, industrialisation and digitisation generate an increasing demand for energy, many businesses and countries are also looking to reduce their carbon footprint while complying with green regulations, with the most recent sustainability initiative being the Singapore Green Plan. This intersection of needs and regulations is where the company's Energy and Sustainability Services division will thrive as businesses source for experts who can help them navigate these new waters.
"Singapore is a prime location for us to access the SEA region as we can tap on the local government's push for sustainability, while reaching out to operations that may be built in other ASEAN cities. We are committed to helping businesses meet their sustainability goals and that is why you can expect to see more of us as we plan to keep investing in this part of the world," said Jackson Seng, Energy and Sustainability Services Leader, EAJ Region, Schneider Electric.
Schneider Electric is also a market leader in commercial solutions to digitise operations, minimise energy usage and emissions, and maximise renewable energy utilisation. With Singapore's push to establish more green buildings and increase adoption of electric vehicles (EV), Schneider Electric's solutions in these areas will help to back the country's Green Plan.
Yoon Young Kim, Cluster President of Singapore, Malaysia, Brunei, Schneider Electric, said, "With the EV market looking to expand rapidly around the globe, our eMobility offerings provide an end-to-end solution for EV charging infrastructures that increase efficiency, resiliency and sustainability. We want to use this knowledge and expertise to support Singapore's goal of having 60,000 EV charging points by 2030."
Schneider's goal is to help its customers save 800 million tons of CO2 between 2021 and 2025. The ESS division has advised on more than 100 direct and virtual PPA transactions for a total of more than 9000 megawatts globally as well as the brokerage of nearly 100 million megawatt-hours of energy attribute certificates, making Schneider Electric the world's largest advisor on corporate renewable energy procurement.
Schneider Electric was recognised during the Renewable Energy Markets™ Asia Awards award by CRS based on its commitments to a clean energy transition. In its own operations, Schneider Electric has pledged to achieve carbon neutrality by 2025 and net-zero CO2 emissions by 2030. Last year, renewable energy powered 80% of Schneider Electric's operations, up from just 2% in 2017. This increase is the result of a strategy to maximize the adoption of onsite capacity, PPAs and certificates. Over a three-year period, the company has equipped 15 industrial sites in China with onsite solar generation, with plans for three more to be commissioned in 2021.
The Renewable Energy Markets™ Asia Awards were presented virtually on 9 March, 2021, during CRS' inaugural Renewable Energy Markets (REM) Asia conference. CRS is a US-based nonprofit with global impact, developing expert responses to climate change issues. The goal of the REM Asia conference is to support the growth of renewable markets in Asia, focusing on corporate sourcing through green tariffs, certificates, and power purchase agreements (PPAs). This unique event will connect leading industry players throughout Asian renewable energy markets to network, learn and plan for the future of the region.
The acknowledgment from CRS follows Schneider's 2020 recognition as the Climate Group's RE100 first Clean Energy Trailblazer, acknowledging Schneider's drive to help decarbonize the world by accelerating the adoption of renewable energy. In January of this year, Schneider was ranked the world's most sustainable corporation by Corporate Knights, a media and research company focused on corporate sustainability performance.