Companies news
SP Group Partners EDF Group To Develop Subsea Transmission Cable To Facilitate Green Energy Import From Indonesia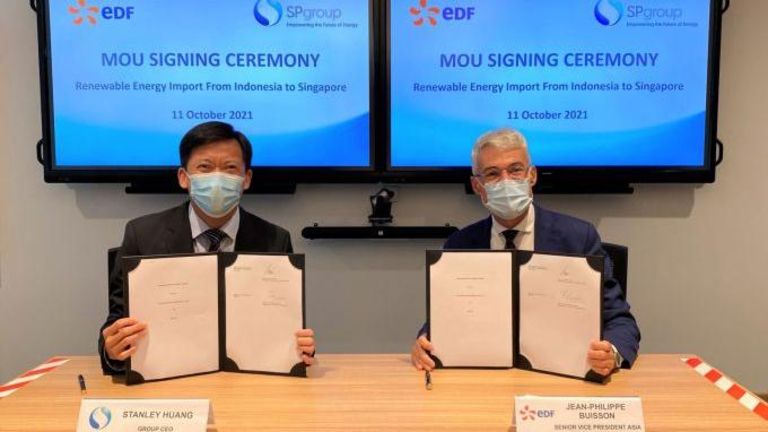 Photo: SP Group. Mr. Stanley Huang (L), Group CEO, SP Group, with Mr. Jean-Philippe Buisson, Senior Vice President, Asia, EDF International, at the MOU signing ceremony on 11 October 2021.
SP Group (SP) signed a Memorandum of Understanding (MOU) yesterday with EDF Group (EDF) to jointly develop a subsea transmission cable to support renewable energy import from Indonesia. The infrastructure aims to facilitate future electricity import from Indonesia, starting from a proposed 1,000MWp solar photovoltaic plant to be developed by a consortium of partners led by EDF Renewables, a subsidiary of EDF.

As part of the MOU, SP and EDF will embark on commercial, regulatory and technical feasibility studies for the subsea cable, and explore opportunities to widen the interconnection to other neighbouring clean energy generation sources in Indonesia to improve economies of scale. When completed, the subsea transmission cable will be a key enabler for regional power system integration, ensuring scalable grid connection capacity from Indonesia.

Mr Jean-Philippe Buisson, Senior Vice President, Asia, EDF International, said,
"This partnership with SP Group is in line with EDF Group's ambitions of promoting cross border interconnection globally which supports the flow of renewable energy. EDF looks forward to mobilising its comprehensive expertise, both technically and commercially, to support the implementation of this common subsea transmission cable between Singapore and Indonesia with our best practices and past experiences. We are proud to contribute to this development, as the decarbonization of energy is at the heart of our business ambition."

SP's Group CEO, Mr Stanley Huang, said,
"We are honoured to partner with EDF to support the import of green energy from Indonesia into Singapore. The subsea transmission cable will be an important part of the regional grid interconnection and allow us to better plan for future network requirements to maintain our reliability standard. We look forward to working closely with EDF on the feasibility studies."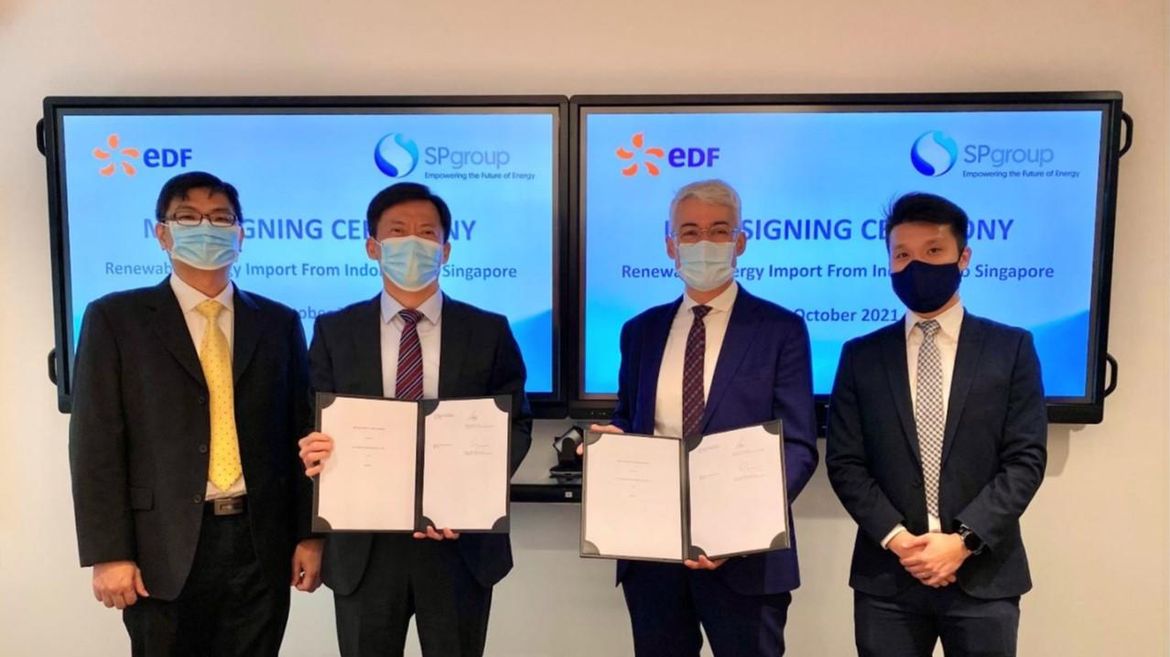 (From left) Mr Brandon Chia, Managing Director, SEA & Australia, Sustainable Energy Solutions, SP Group; Mr Stanley Huang, Group CEO, SP Group; Mr. Jean-Philippe Buisson, Senior Vice President, Asia, EDF International; and Mr Cheang Jian Ming, Business Development Manager, EDF International