Companies news • Analyses & Studies • Publications
The Asia-Pacific MRO Market: A Positive Outlook Takes Shape, But Several Key Challenges Remain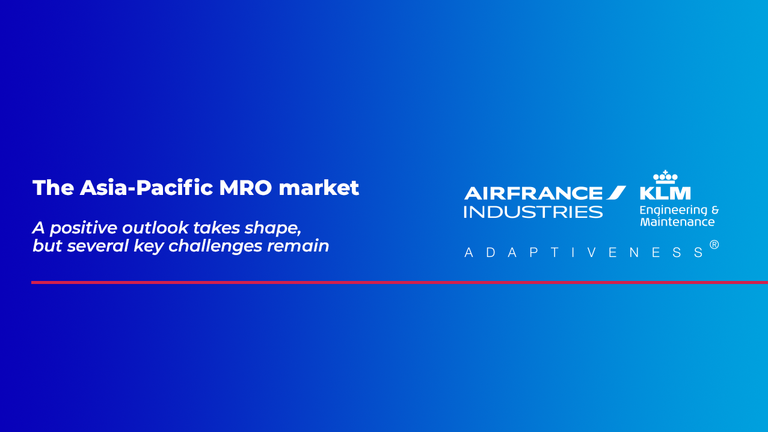 It was the first region to be hit by the pandemic, but is Asia-Pacific now on the path to recovery?
We caught up with Tommaso Auriemma, VP Sales for Asia-Pacific at AFI KLM E&M, to get the low-down on this market.
After two years of the covid-19 crisis, playing the predictions game is still as tricky as ever: the faltering recovery observed last October was smothered by the omicron wave, and the air transport market remains mired in global uncertainty. Still, despite this context of ongoing strain, the fact that the Singapore Airshow will go ahead in February 2022 is a sign of better days to come: in an Asia-Pacific region which, prior to the health crisis, was the primary growth hub for the aviation industry, Tommaso Auriemma notes there are "positive signals from our customers, some of whom have published very optimistic flight plans for 2022."
However, as is the case all over the world, airlines and fleet operators in the region will emerge from the crisis with their finances under pressure.
"During these difficult months, we've been supporting our customers by providing technical and engineering solutions adapted to their situations, while a thorough and rational approach to contract management has also played a key role in stemming the impact of the crisis," explains Tommaso Auriemma. "We now feel the time is right to start looking toward the future, thinking in the long term, and helping our customers to see maintenance operations as a catalyst to boost their overall performance levels."
MRO as a performance booster
Indeed, when maintenance operations are well-conceived, carefully planned and employ the use of the latest technologies (such as predictive maintenance), they will usually give airlines greater room for manoeuvre – whether in terms of optimizing their procurement, reducing maintenance costs for their engines, components or APUs, and/or maximising the availability of their fleets. Such is the ambition and strategy of an operator like AFI KLM E&M, whose dual expertise as an Airline-MRO enables to precisely understand the needs of operators, and to offer solutions tailored to meet those needs.
Maintaining a robust presence in the Asia-Pacific zone, with repair workshops and logistics centres in the region's main hubs, the MRO is able to draw upon the vast breadth of its network in order to create synergies and enhance performance.
According to Tommaso Auriemma, "very few operators in the region can boast such a comprehensive profile: thanks to the scope of what we offer across all the market's major products, with an extensive range of engine, component and airframe support services, our customers can benefit from economies of scale and a level of negotiating power that are unique to our network."
Then there is the fact that customers enjoy access to its globally operated logistical network, a major asset in terms of guaranteeing the availability of crucial parts at the right time and in the right place. AFI KLM E&M maintains pools of parts strategically positioned throughout various Asian countries, so they can be dispatched to operators in a matter of hours.
Innovating to cut costs?
Innovation also plays a key role in this drive for greater performance, and it is with this particular goal in mind that AFI KLM E&M is constantly developing new repair methods, from engine parts through to the most specific avionics components. At a time of high demand on OEMs and pressure on the global supply chain, we must think in terms of sustainability: every part that gets repaired instead of replaced represents a significant gain.
By the same token, predictive maintenance is proving to be a game-changer, giving operators greater control over their scheduling – with a huge impact on the occurrence of AOG situations.
"Forward planning has always been a key factor in optimising maintenance costs," explains Tommaso Auriemma. "Today, with our range of PROGNOS® solutions (developed and operated in-house), we have the ability to closely monitor the status of our customers' fleets: we can predict with unprecedented accuracy which equipment will require servicing, and when. This applies to the majority of flight systems, even components and APUs."
Staying prepared for a rise in traffic
Another major challenge involves the market's ability to absorb demand. With grounded fleets being gradually returned to active service, and many heavy operations having been postponed during the long months of the crisis, many operators are anticipating the risk of workshops being overrun in the not-too-distant future.
The Asia-Pacific zone is of course no exception to this global trend, as Tommaso Auriemma confirms: "Both we and our competitors are already seeing an influx of orders, and since MROs cannot have infinite slots available, the scheduling of maintenance operations will play a decisive role in avoiding bottlenecks." However, AFI KLM E&M is prepared for this eventuality: the maintenance branch of the Air France-KLM Group has successfully has weathered the crisis without scaling back its industrial resources, and still possesses the means to meet customer needs with 100% logistical and production capacity.
Fleet maturity, renewal and expansion
This issue is just as crucial, given that aircraft continued to age through their "normal" life cycle during the crisis. With 787 fleets approaching maturity, for example, a large wave of shop visits is on the horizon for GEnx engines: according to Tommaso Auriemma, "the pace of removals remains difficult to predict but, as the only approved workshop for this product alongside the manufacturer, it's certain that we will have a role to play in helping operators absorb the coming spike in requests."
Finally, fleet renewal and expansion represent further challenges. While orders and deliveries of wide-body aircraft are still stuttering, the market for single-aisle aircraft has regained pace in this region, notably reflected in the renewed enthusiasm for the 737 Max.
"We have a card to play here too," explains Tommaso Auriemma. "AFI KLM E&M is currently one of the world's leading experts on 737 products, with over 600 aircraft supported. We have a proven track record when it comes to assisting with entry into service – from advising on maintenance programs to the supply of initial parts stocks."
These expertise are of particular strategic importance during this pivotal period, which has seen a return to optimism among established operators and the launch of start-up airlines all throughout the region, from India to Australia to Indonesia. The aviation industry is placing a great deal of hope in 2022, and one thing is for sure: AFI KLM E&M will be on hand to support the recovery and growth of operators all throughout the Asia-Pacific region.