Companies news • Publications
Tip Of the Month: Top 10 digital tools for business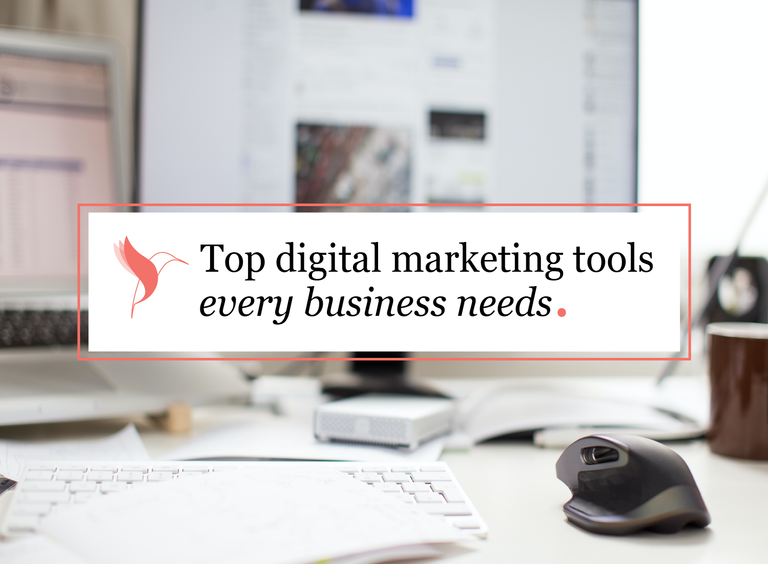 Let's speak friendly digital! Marie Nadal Sharma, Founder & Director of Them You & Me shares tips about demystifying digital marketing.
As a business owner, you're probably juggling numerous tasks every day. The good news is, there is a vast array of digital tools that can help you gain time, and make the running of your business a whole lot smoother. The only challenge is to identify correctly, the ones that will serve your business needs most efficiently.
The market has an overabundance of digital tools you can choose from, ranging from free tools to ones with varying paid subscription plans. To help you cut through the confusion, we've brought you the names of a few tried and tested tools* that will prove invaluable in the varying functions of your business.
Scheduling
You have limited time and unlimited things to manage. It helps to have an app that can schedule meetings, cutting down on a lot of back-and-forth emails, and a loss in focus caused by various interruptions.
Calendly
This meeting and appointment scheduling software integrates seamlessly with your calendar and Microsoft Outlook, and works with most business apps. The Calendly link may also be embedded on your website. It has a free version, but you can upgrade to unlock more features.
Learn more about Calendly.
Meetings
With the growing trend for remote work, and the ongoing pandemic posing restrictions on physical meetings, a virtual meeting place is taking on added importance. You'll need a tool that can help you conduct online training or meetings with your team, connect via any operating system or device, create a video webinar and more.
Zoom
This video-conferencing software app has been extremely popular in the last few months. The platform is flexible to accommodate organisations of all sizes and industries, but it especially serves small businesses well through its tiered pricing and usage plans.
Learn more about Zoom.
Communication and project management
To keep work flowing smoothly, you require an app that can offer easy communication between team members. It should ideally also give every team member insight into the various ongoing projects, their role in each and a timeline within which to execute tasks. Instead of two separate apps for each function, you could have one that combines both, flawlessly.
Asana
This web-based project management system lays out an efficient system to manage tasks, team members and keep track of project milestones. It enables each team member to create tasks, assign them with deadlines, leave messages on each task, and share project updates.
Learn more about Asana.
Document management
Documentation is inseparable from any business. Right from business proposals to business plans, you require documents. While most documentation is online currently, you require a good system for storing and sharing files.
Google Drive
If you have a small team without too many documents to work with, then Google Drive may be just right for you. Google's cloud storage platform enables you to store, share and collaborate on documents and folders from your mobile device, tablet or computer in real-time. Say goodbye to those 25 emails to discuss a single topic! You can have just one master document, spreadsheet or presentation which can be edited by anyone you grant access to – your team or your client. You will be able to note the changes made, the person who made the changes, and the time this was done as well, to help you keep track of the progression of content.
Learn more about Google Drive.
Design
It's a well-researched fact that people recall more of what they see and less of what they read. This makes visual marketing a priority in your digital marketing strategy. To save time and effort in creating professional designs, choose an app that will give you various creative options while simplifying the process as well.
Canva
This web-based graphic-design tool helps you create beautiful images for social media, presentations, website wireframes, invitations and more, with a simple drag-and-drop interface. It can be easily used by non-designers and professionals alike. It is both free and subscription-based.
Learn more about Canva.
Website building
A professionally built website with a clean, functional interface and user-friendly design is a must-have for businesses. You can choose from several available website building platforms that you can use without requiring the services of a developer.
WordPress
This is one of the most popular website building platforms due to its scalability, powerful features and ease of use without knowing code. While it is free, you will have to pay for web hosting.
Learn more about WordPress.
Analytics
It is imperative that businesses have an online presence to reach out to their customers easily and more efficiently. A big part of your marketing efforts will need to be directed towards being found online, because eventually, your online presence will not matter unless you are discovered by your potential customers. Also, you need to know what works, and what needs improvement.
Google Analytics
This free web analytics tool enables you to analyse, in detail, the visitors on your website. You will gain insights into the performance of your content, your product or service and its marketing, as well as an understanding of targeting the right customers. The detailed reports you receive will help you formulate your future business strategies or apply corrective action to an ongoing one.
Learn more about Google Analytics.
Google Search Console
This is a Google tool that helps you optimise your website for search engines. It will assess whether Google will discover and crawl your website, help you monitor website search traffic, measure its online performance and identify indexing issues and fix them.
Learn more about Google Search Console.
Email marketing
Email is a great way to drive ROI, and a digital tool to help create personalised email marketing campaigns is useful.
MailChimp
This is an all-in-one marketing automation platform that is especially useful to small businesses. The software helps you create and manage your mailing lists, newsletters, automated campaigns and more.
Learn more about MailChimp.
Accounting
Accounting is best left to a fool-proof digital app so that you can spend your time focusing on running your business.
Xero
This online accounting software for small businesses gives you a comprehensive overview of your financial situation, while offering clarity on your cash flow by highlighting bank balances, outstanding invoices, upcoming bills and expense claims. Some features like bank reconciliation, financial reporting, cash flow tracking and more, are especially useful. You can access Xero from any computer or mobile device.
Learn more about Xero.
Remember to select your digital tools based on the objectives of your digital marketing campaigns and your business needs. The tools we've listed should cover all aspects of your business and help smoothen your day-to-day work.
At Them You & Me, we help in the digital transformation of businesses. If you have any questions about digital tools for business, your digital marketing strategy or your website, please get in touch with us.
You can also visit our website to learn more about us and our services.
*Please note that we are not affiliated, associated, or in any way officially connected with any of these brands. We simply use these tools and find them to be a great help in running the business.