Companies news
TotalEnergies Marine Fuels, Hapag-Lloyd and Jurong Port Universal Terminal Kick-start First Biofuel Bunker Term Delivery in Singapore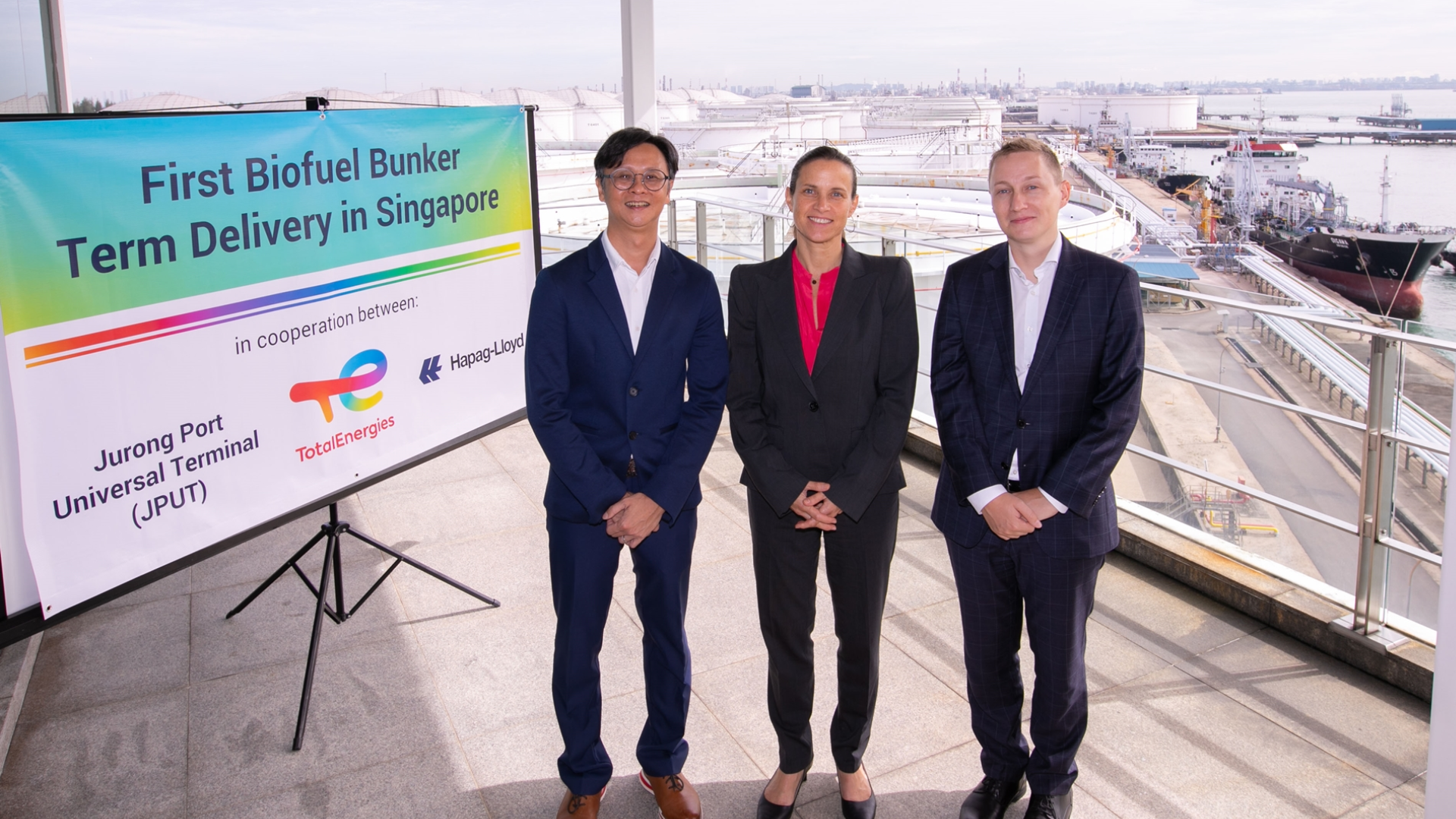 TotalEnergies Marine Fuels has successfully completed its first refuelling of a Hapag-Lloyd container vessel in Singapore with sustainable, UCOME (Used Cooking Oil Methyl Ester)-based, marine biofuel.
This inaugural bunker operation marks the start of a term supply agreement between the two companies, which commits TotalEnergies to provide VLSFO (Very Low Sulfur Fuel Oil) blended with 24% second-generation, waste-based and ISCC-certified UCOME to Hapag-Lloyd's fleet. Based on a well-to-wake assessment, this B24 biofuel blend will reduce approximately 20% of Greenhouse Gas (GHG) emissions compared with conventional fuel oil.
As part of this milestone operation, Hapag-Lloyd's 15,000 TEU container vessel, Afif, took on 2,000 MT of biofuel on 20th January 2023. The ship-to-ship biofuel transfer was made possible with the services rendered by Jurong Port Universal Terminal Pte Ltd (JPUT). JPUT also took on 100 percent UCOME bio-component into their storage tanks for the first time, which further underscores the significance of this operation.
Jan Christensen, Senior Director, Global Fuel Purchasing of Hapag-Lloyd, said: "We are very pleased with the cooperation with TotalEnergies for the supply of biofuel in Singapore. This is another early step for Hapag-Lloyd on our decarbonization journey. In combination with other green fuels, biofuel will play an important role towards a carbon-free environment by 2045. Consistent supply of biofuel in Singapore will allow us to offer sustainable transportation solutions to our customers, thereby supporting them in their efforts to reduce their carbon footprint."
Louise Tricoire, Vice President of TotalEnergies Marine Fuels, said: "We are excited to support Hapag-Lloyd's decarbonization strategy with the development of this new supply chain for marine biofuels. It underlines both companies' long-term collaboration to explore and develop initiatives that promote the introduction of clean, low-carbon alternative fuels. Importantly, this biofuel bunker term contract also ushers a new chapter for TotalEnergies Marine Fuels, as we build on our operational expertise gained from multiple biofuel bunker trials we have done in 2022, to provide a scalable solution of this lower-carbon marine fuel."
Loh Wei, Chief Executive Officer of Jurong Port Universal Terminal, said: "JPUT is excited to work with TotalEnergies Marine Fuels as our first customer for the bulk storage and delivery of biofuel bunkers in Singapore. As the largest independent petroleum storage terminal in Asia, JPUT has been working on several new initiatives on low-carbon fuels for the last two years. We are glad to be able to bring this UCOME initiative to the market in record time, thanks to the close collaboration with TotalEnergies. With this and other new initiatives focused on carbon reduction, clean fuels and sustainability, JPUT is well-positioned to be a leading clean and sustainable future fuels storage provider, reinforcing Singapore status as the world's leading bunkering hub."
SOURCE : Total Energies