Companies news
TotalEnergies Marine Fuels white paper offers shipping companies critical insights in the drive for cleaner marine fuels
TotalEnergies Marine Fuels has published a new white paper – "The Drive for Cleaner Marine Fuels" – offering shipping operators and owners valuable insights to help them navigate their vessel fleet's energy transition in the short to long-term.
The new 44-page white paper looks at the key drivers shaping the move to shipping's decarbonization, key timelines motivating the transition and TotalEnergies' investments, plans and collaborations to help its shipping customers make an effective and successful move to lower and zero-carbon fuels of the future.
"The white paper underscores TotalEnergies Marine Fuels' commitment and confidence in guiding and supporting the shipping sector through its decarbonization journey, from the supply of current solutions – notably LNG and biofuels – to the development of future marine fuels, including green hydrogen-based fuels," commented Jérôme Leprince-Ringuet, Vice-President Marine Fuels, TotalEnergies. "Through our insights, knowledge and thinking, we hope to help develop a greater understanding of the key areas and considerations ship owners and operators will need to address, as they move towards tomorrow's marine fuels landscape."
To find out more about "The Drive for Cleaner Marine Fuels" and to download the document, visit: https://marinefuels.totalenergies.com/news/publications/the-drive-for-cleaner-marine-fuels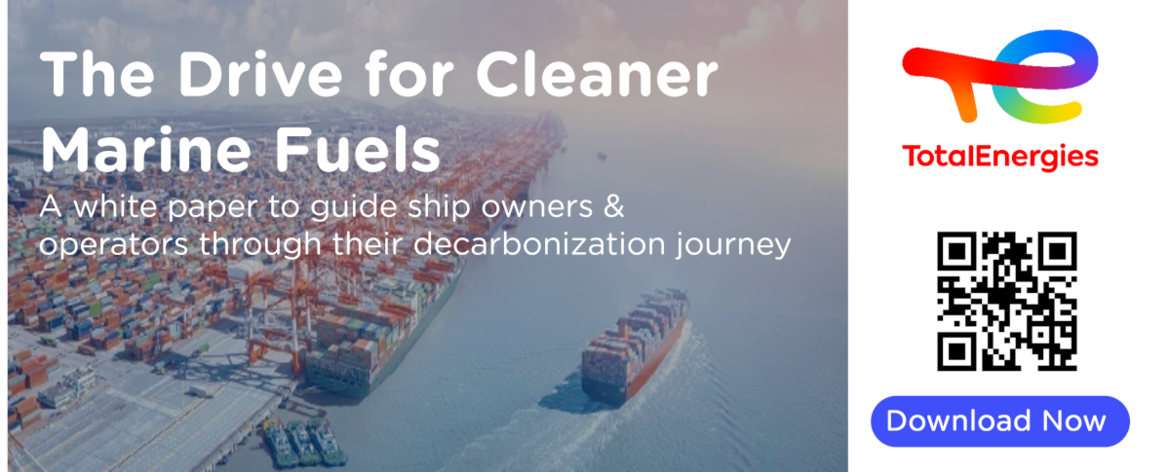 ***
Note:
A new white paper – "Adapting to Life in the Post IMO2020 Landscape" – will be published by TotalEnergies' marine lubricant specialist, Lubmarine, on December 15, 2021, providing vessel owners and operators with key insights into the vital role that correct lubricant selection and onboard lubrication oil management plays in preventing costly engine failures.