Event report • Interview
Webinar: A Conversation with Mr. Lee Chee Koon, Group CEO at CapitaLand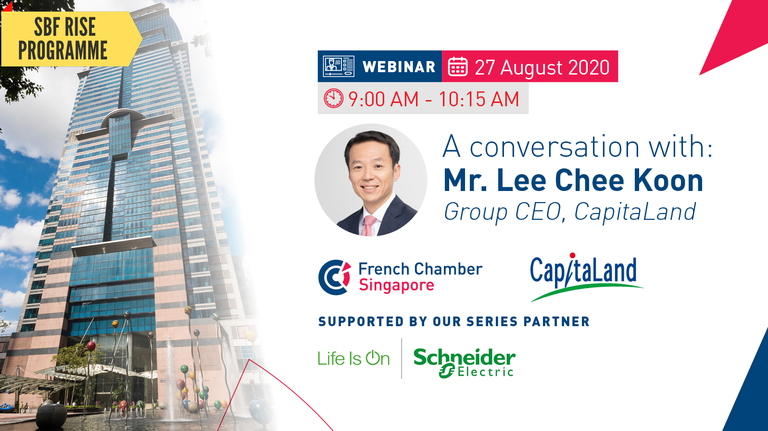 CapitaLand Limited (CapitaLand) is one of Asia's largest diversified real estate groups. Headquartered and listed in Singapore, it owns and manages a global portfolio worth about S$134.7 billion as at 30 June 2020. CapitaLand's portfolio spans across diversified real estate classes which includes commercial, retail; business park, industrial and logistics; integrated development, urban development; as well as lodging and residential. With a presence across more than 220 cities in over 30 countries, the Group focuses on Singapore and China as its core markets, while it continues to expand in markets such as India, Vietnam, Australia, Europe and the USA.
In this special webinar, Mr. Lee Chee Koon gave an overview of CapitaLand, and shared about the company's strategy on sustainable growth, collaboration and opportunities in a post COVID-19 situation.
Mr Manohar KHIATANI, Senior Executive Director at CapitaLand, was part of the dialogue and panel discussion.
The dialogue was moderated by Damien DHELLEMMES, CEO Schneider Electric Singapore, Malaysia and Brunei and VP board member at the French Chamber of Commerce.
CapitaLand looks forward to collaborating with members of the French Chamber across different business areas.