Webinar • Event report • Webinar
WEBINAR: Beyond The Fun: What Really Happens In A Tech Company During COVID-19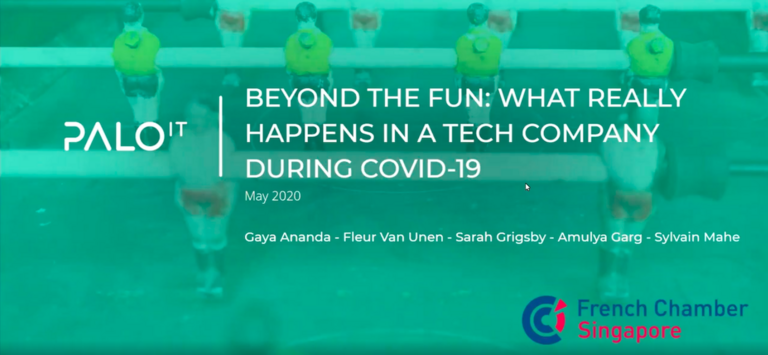 The Palo IT team shared how they maintain well-being and a healthy culture while working hard in a crisis mode.
Tech companies have a reputation for being all about fun. And to some extent - it's true! But beyond the fun - we do focus on solving complex problems, sometimes requiring us to build things that don't exist yet. How do you make the best out of crisis mode?
In this very open talk, the Palo IT team members -
Gaya Ananda, Head of Marketing
Fleur Van Unen, Culture, Consciousness & Change Facilitator and Agile Coach
Sarah Grigsby, Conscious Leadership and Agile Coach
Sylvain Mahe, Conscious Leadership Coach
and Amulya Garg, Full Stack Developer
shared their challenges, as well as what the organisation does to keep the fun, but beyond that - build a resilience mind-set and encourage physical and mental well-being amongst the team!
Thank you to our kind speakers and participants for joining this webinar.
Access the webinar video (Only for members)