Webinar • Event report • Webinar
WEBINAR: Industry 4.0 in Singapore, Trends and Opportunities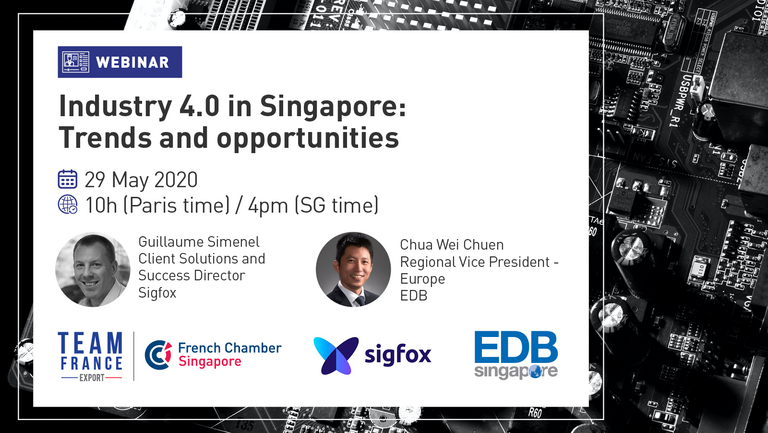 By launching the Singapore Smart Industry Readiness Index in November 2017, Singapore is setting the target for industrials to start and accelerate their transformation journey.
Singapore's largest industry by far is the manufacturing sector, which contributes 20% of the country's annual GDP and is one of the key pillars of Singapore's economy. Its manufacturing industry is the top player in many fields such as semiconductors, aerospace, transport, chemicals and biomedical sciences, energy, maritime…
Singapore's manufacturing base has been gearing up to adopt the Industry 4.0 model, to enable digitalization and automation of its processes, enhancing its efficiency and long-term competitiveness on the global stage.
In this webinar, our guest speakers Guillaume Simenel, Client Solutions and Success Director at Sigfox and CHUA Wei Chuen, Regional Vice President in Europe for EDB discussed how the Singapore government has earmarked time and money to empower Singapore's smart manufacturing solutions, and to create a dynamic business environment conducive to developing innovative manufacturing solutions.
Thank you to our kind speakers and participants for joining this webinar.