Event report
Webinar: Joint Virtual Conference on Artificial Intelligence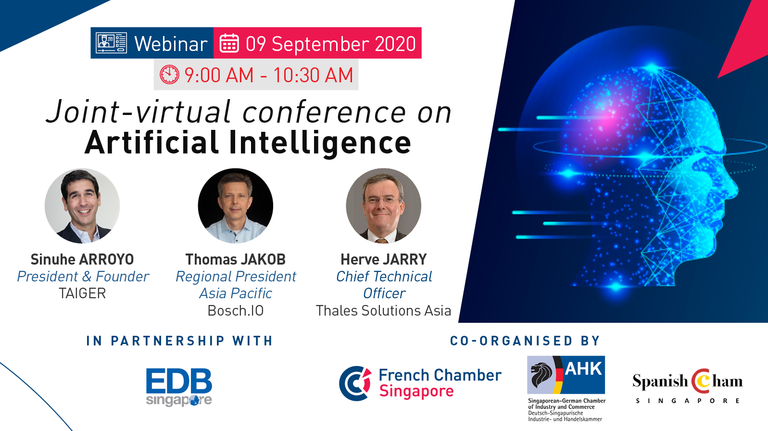 The French Chamber of Commerce, the Singaporean-German Chamber and the Spanish-Singaporean Chamber are proud to have co-organised this exclusive virtual conference on Artificial Intelligence that discussed many facets of Singapore's AI Strategy and how three European organisations are contributing towards it.
Apart from digitization, the next technological phenomenon which is making huge waves across Europe and Asia is Artificial Intelligence (AI) - the capability to simulate intelligent, human-like behaviour in computers. We have already experiencing AI in several industrial sectors – manufacturing, food, healthcare, e-commerce and financial technology. Not only will our lives be transformed in the way we eat, live and work, it will also pose a golden opportunity for Singapore to open new frontiers of growth and transcend our geographical limits. But what does this mean for Singapore, moving forward?
In partnership with Economic Development Board, this virtual conference brought together three renowned European companies (Bosch.IO, Thales and Taiger) which are spearheading AI projects in order to help Singapore realise its vision.
During this webinar, the audience was split into 3 breakout rooms where each speaker addressed one of the following topics:
"How to Escape the Matrix – Ethical Considerations in Artificial Intelligence" Presented by Thomas JAKOB, Regional President Asia Pacific at Bosch.IO
"AI: Myths, truths and misunderstandings" Presented by Sinuhe ARROYO, President & Founder at TAIGER
"Can we trust AI?" Presented by Herve JARRY, Chief Technical Officer, Thales Solutions Asia
Thank you to our speakers and our moderator Lim Tse Yong, Centre Director at Economic Development Board for the insightful presentations.
Thank you as well to the Chambers of Commerce for your efforts in organising this webinar!
For video recordings of the event and breakout room discussion, please contact Guillaume RENAUD at grenaud(at)fccsingapore.com