Event report
Webinar: Robotic Process Automation: applications, benefits and real-world use cases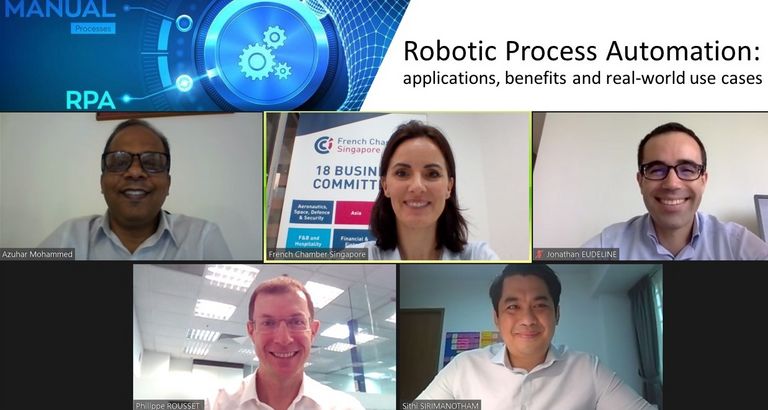 RPA are considered as solutions that can help organizations on their digital transformation journeys by mimicking a human worker and handling high-volume and repeatable tasks to perform.
Thank you to our speakers who shared their experience on RPA, the key factors enabling their company to implement the technology efficiently :
Sithi Sirimanotham, Partner at Aurexia
Azuhar Mohammed, ITS Global Head of Expertise & Innovation at Sanofi
Jonathan Eudeline, Program Director RPA / Head of Singapore KYC Innovation Project team Crédit Agricole CIB

This joint webinar was an opportunity to map the applications of RPA (customer service, accounting, financial services, HR, etc.), to know more on the other existing solutions as artificial intelligence, machine learning, IPA, and what you should consider if your company looks for RPA technologies.
Thank you also to Philippe Rousset, CFO APAC of SOCOMEC and co-president of the Financial & Fintech Committee who moderated the session, and thank you to all the participants!
Access the webinar recording (Only for members)