Webinar • Event report
WEBINAR: Singapore, Asia's Test Bed for Agri-food Tech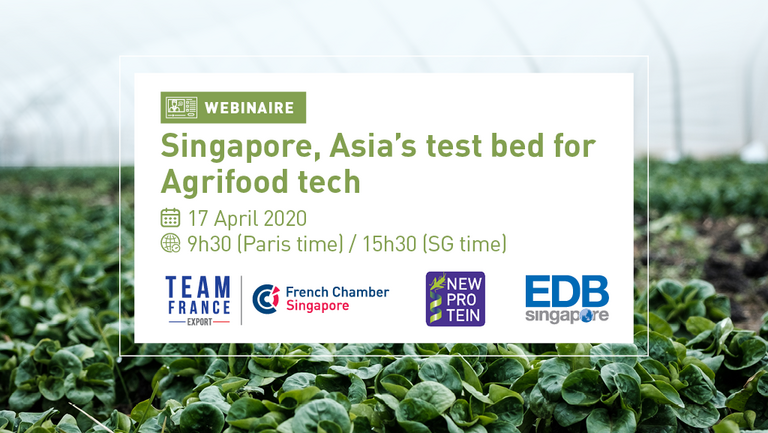 In this webinar, conducted on April 17 2020, our speakers Eng Keat LEE, Senior Vice President and Head of Agrifood and Commercial & Professional Services at the Singapore Economic Development Board (EDB) and Matthieu VERMERSCH, Founder & Managing Partner at VisVires New Protein, presented the following points for discussion:
Underlying trends feeding these perspectives, notably in agrifood tech:
Emerging middle class (eager to consume)
Young, urban, tech savvy population
Running urban development and infrastructures (how to optimize spaces & arable land?)
New consumption trends : occidentalization, eat out or take-away, eat better and healthier, premiumization, specific food demand…
Food needs growing faster than production capacities (dependency issue)
Technologies more and more intrusive in all verticals
Great challenges to overcome:
produce more, in better conditions (food safety and sustainability), more nutritious and diversified food...
Transport in better conditions (traceability and sustainability), quicker...
Transform better, quicker, with more sustainable processes (limiting waste & carbon footprint)…
Limit waste in general, bring awareness to consumers, educate, encourage to recycle...
Engage andempower consumer, improve their buying/consuming experience…
Conceive sustainable business models, develop financing through the entire value chain
This webinar was co-organised by the Singapore Economic Development Board (EDB), VisVires New Protein and The French Chamber of Commerce in Singapore.
Thank Eng Keat, Matthieu, Jacklyn and all the participants for taking part in this webinar.