Webinar • Event report • Webinar
WEBINAR: Use your business as a force for Good – the journey to becoming a B-Corp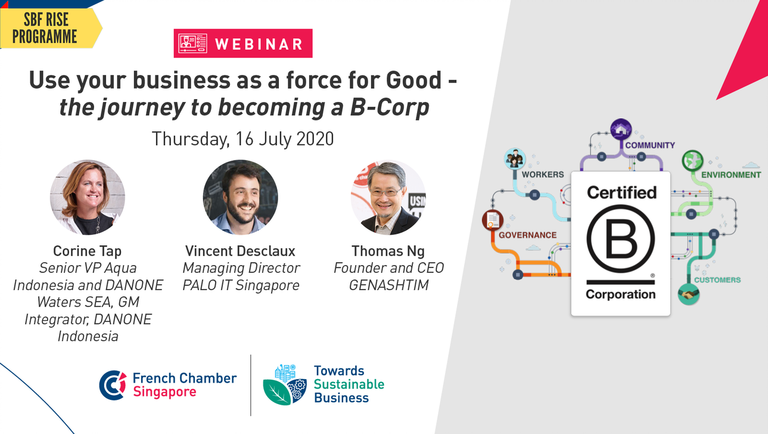 Becoming a Certified B Corporation® is the most powerful way to build credibility, trust, and value with its customers.*
Certified B Companies are a new kind of business that balances purpose and profit. They are legally required to consider the impact of their decisions on their workers, customers, suppliers, community, and the environment. This is a community of leaders, driving of a global movement of people using businesses as a force for good.
In this webinar, our speakers shared their journey experience on becoming a B-Corp company:
Corine TAP, Senior Vice President Aqua Indonesia and DANONE Waters SEA, General Manager Integrator, DANONE Indonesia
Vincent DESCLAUX, Managing Director at PALO IT Singapore
Thomas NG, founder and CEO of GENASHTIM
Thank you to our speakers and participants!
(*source https://bcorporation.net/)
Access the speaker's presentation (Only for members)