Companies news • Publications
"Onboarding Booster" programme to help you engage and retain your talents from anywhere! by WeLinkTalent, RealMe Coms and IKIGAI Coaching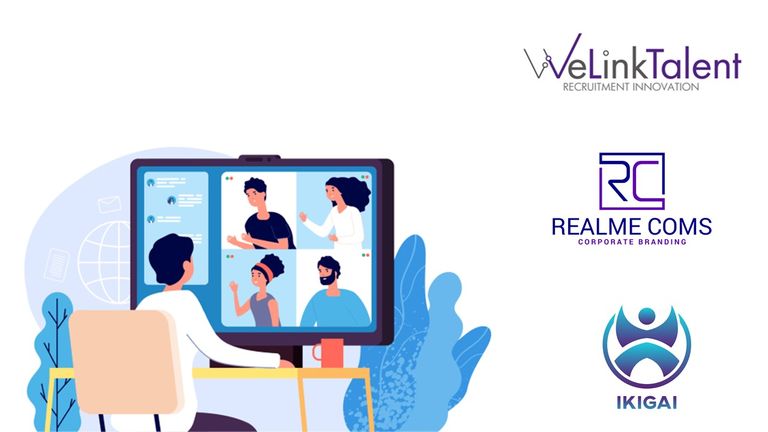 Together with RealMe Coms and IKIGAI Coaching,  WeLinkTalent has developed a solid onboarding programmes for new employees.
The first 100 days define the employee's perception of your organisation.
In a virtual world, #onboarding is the best way to engage and retain your new employee.
We complement your onboarding programme to optimise your employee's first 100 days.
Virtual Onboarding: Tips and Resources
Most of our processes have been adapted and changed for safety in the face of COVID-19. Whereas it was unthinkable to hire and onboard a new employee remotely over a year ago, companies are adapting and learning new strategies to continue attracting, recruiting, and retaining their talent. As working from home became the norm (or was necessitated by the law) and people faced difficulties relocating to a new location, new employees may join the company without even meeting their team members first!
Navigating a new job is a harrowing experience. First impressions are made, relationship bonds are formed, and workflows begin through a computer screen now. Managers and HR directors may struggle to adapt their strategies to deal with the lack of human contact at work. In this unique time, onboarding your staff virtually is more important than ever.
Here are 5 tips to successfully onboard your new talent:
Ensure that new employees are adequately prepared for remote work
Commencing at a new job at home is not easy: new staff may feel lost without in-person help in the office and struggle while working through issues at their new job. In addition, the lack of in face interaction may make them feel isolated and affect morale. Employers can first ensure that the new hire has the right hardware, software, office supplies, and adequate communication tools. New employees need to understand how to share information, access documents, and keep information safe between them and their co-workers. Employees also need to be trained and briefed on the relevant tools they will use to work from home. Most importantly, communication channels, schedules and workflows need to be established from the beginning to ensure productivity.
2. Communicate, communicate, communicate!
Navigating a new job can be daunting when they are alone and cannot ask for help quickly. It is important to provide the guidance the new employee needs as they learn to adapt to the demands of their new job. Employees also need to understand whom to go to with questions, and how to best contact those individuals, while working remotely. Supervisors should also take extra care to check on their new team members from time to time to answer their questions and include them in the team. Other activities such as virtual team lunches and coffees are an effective way to include the new team member in the department.
Setting clear expectations from day one is key to put the new employee on track and eliminates confusion and miscommunication. Without set expectations, employees may be left to wonder where their impact lies and may fall behind. Agreeing on clearly defined expectations ultimately empowers the employee in their positions and establishes a road map for the employee to succeed.
3. Set Expectations From the First Day
How do we ensure new employees feel like they are part of your company culture, even when they're not at the office? Here are few examples that might help:
Provide your new employee with the Staff Handbook
Communicate about your departmental values
Clearly define what is expected of them in this position by providing them with a copy of their Job Description and reviewing their job responsibilities.
Discuss how the provisional and appraisal periods are conducted.
Allow time for each new employee to complete the required training that is covered during new hire orientation
Provide a list of company stakeholders if they need to communicate specific concerns
4. Create employee engagement virtually
As a new employee, understanding who you will be working with daily and how to develop those relationships is critical. Employees should be introduced to their teammates, reporting managers, and other colleagues they will be working closely with. Supervisors need to catch up with them regularly to understand any problems the new employee may be facing, provide support and resources. Virtual meetings can be set on a schedule regularly so that the supervisor can have a feel of how they are transitioning into their new role. This can also take a less formal form, with virtual team lunches and chats to get to know another. Each employee will have different needs and being attentive to these needs will help them transition successfully.
5. Get creative!
Team bonding activities may be a cliché, but they are fun to introduce the new member to the team. Virtual scavenger hunts, online games and icebreakers are a great way to create new bonds and relationships. Teams can also get personal too and send a 'survival kit' during the orientation week. Get creative! Include fun items such as snacks, business cards, trinkets, company products or whatever you want. Make your new employee special and treat the team to a remote team lunch. The ideas are endless, inject fun and joy into your team's WFH routines and strengthen their bonds to each other. The goal is to make your new team member welcome and include them in the company's culture from the very beginning.
Resources:
LinkedIn provides hiring managers with the Onboarding Manager Digital Kit, which is loaded with tools to create a positive first impression and help draft a plan for the new hire's initial 30 days.
Running out of fun icebreaker ideas? Teambuilding.com has a service that facilitates team building activities and includes resources for games ideas, meeting strategies and other activities.
Other HR sites such as HRSM, Indeed and Forbes include numerous checklists, manuals, ideas and articles by HR experts on virtual onboarding.
Ultimately, it's all about the human touch when it comes to welcoming a new team member to your company. With a systematic approach to onboarding, your plan will be more comprehensive and make your new hire feel welcome and included.
At WeLinkTalent, we are strong proponents of solid onboarding programmes for new employees. Together with RealMe Coms and IKIGAI Coaching Pte. Ltd., we have developed the "Onboarding Booster" Program to help you engage and retain your talents from anywhere!
This coaching-based programme aims to enhance the onboarding process for executives of different levels, adapted to the leader's needs by offering:
A complimentary service to the existing onboarding process.
A coaching roadmap to facilitate and accelerate their integration
Support for the Hiring Manager and the Employee to align their expectations along the road
A 3rd party to create a bond between the employee and company in full confidence.
Find out about the programme here or contact us directly.
Source: WeLinkTalent, www.linkedin.com/pulse/virtual-onboarding-tips-resources-welinktalent-com/