Publications
FOCUS 70: Wildly Delicious, Socially Good
Behind every piece of Wildness Organic Chocolate is a story. Marie Monmont, founder of the Singapore and New Zealand-based chocolate factory, shares how she got started and about the company's mission to do good.
How did you get into the business of making chocolate?
I always wanted to be a chef since a kid. Working in a kitchen is what drives me to be happy at work. I learnt cooking at Jehanne de France and chocolate making at Bernachon in Lyon. The art of transforming beans from different countries into a chocolate bar was the most fascinating work I have seen. In the chocolaterie, you work with produce which are not only from the French countryside and so, I discovered a whole new world of flavours. And how to work with them.
Tell us about your business, Wildness Organic Chocolate.
First and foremost, I am a chocolate maker and Wildness is a chocolate factory.  At the same time, we are a social enterprise that makes organic chocolate with the help of prisoners and adults with special needs. As much as we care about making great chocolate, we are also a business that wants to inspire our community to be better, to be good and to be helpful while working.
We are driven to create connections with our society, to bring them together and engage in good work. Currently, we are based in two countries – New Zealand and Singapore – and specialise in making hotels amenities and corporates gifts. We are 100 % independent and I take the responsibilities of bringing a new way of thinking and achieving business that way.
How has Wildness Chocolate improved the lives of your trainees and yourself?
The lives of my staff is so interesting as their path is unknown to most of us. For inmates at the Rimutaka Prison in New Zealand, it provides them with a normal salary to pay their debts, child allowance, and prison bills like phone calls and electricity, as well as startup cash when they get out. I would say the real income they earn is the sense of confidence in themselves. Most of them didn't really work before getting into jail so it is a learning path with humility and a mutual understanding of what needs to be done to be successful.
For our staff in APSN CFA in Singapore, I think their families are happy that their sons or daughters are doing something different in their daily routine and get to work with a luxury product. Both teams feel valued at work and give 100% of their energy to it. As for me, my life was good as it was but working with inmates and people with learning disabilities has totally changed how I see the world today. I can see we can benefit from each other no matter what we have done or who we are. I always been open minded but it got to the next level with my both teams! I am indebted to them as I feel more fulfilled now than few years back.
How does Singapore support your social enterprise mission?
There is an entity from the government known as The Singapore Centre for Social Enterprise (raiSE) which has been a fantastic support. They bought our first chocolates tablets and helped me with the set up here, offering advice and recommendations every step of the way. I would say that Singapore has been very welcoming to Wildness by opening their doors without questions. It only took a few months for the government to issue a visa and approve our set up, and now I am running nicely with great thanks to them! They made my life easy to create something new here!
Can you share what motivates/ inspires you? What is the source of your creativity?
That question has come up so many times and today it is difficult to answer still. I have a great amount of energy in whatever I undertake. I don't read books about chocolate making or cooking. I travel to source my inspiration and the creativity comes from long conversations I have with people I encounter. People inspire me the most and I am turning that into something concrete to work the way I like. We have, in our nature, so much potential; I just mix that into a product.
What is your motto in life?
Always see the positive in everything!
What is your business motto?
Respect and discipline !
Where is Wildness Chocolate available? 
Wildness is sold at the Grand Hyatt on Scott Rd, SuperNature on Orchard Road, Fish Wives at Cluny Court and at APSN Café. You can find us in hotels such as Intercontinental Robertson Quay and other hotels around Singapore. We work also with corporates to produce chocolate gift boxes for their clients.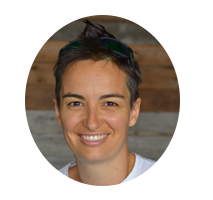 Interview with Marie Monmont, founder of Wildness Organic Chocolate, for FOCUS #70. To read more articles from this issue, download your digital copy here