Companies news • Portraits
Women in the Wine Industry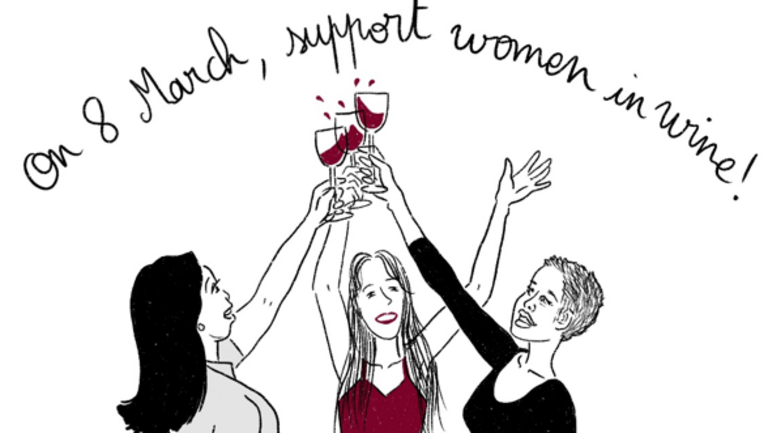 Ah, wine, the elixir that has been enjoyed by civilizations throughout history. It's often thought of as a man's drink, but let's be real – women have been killing it in the wine industry for ages! It's time to give these trail blazing women their due credit.
Let's take the example of Barbe-Nicole Clicquot, better known as Veuve Clicquot. This French businesswoman of the 19th century inherited her husband's champagne house but transformed it into a prestigious brand'' thanks to her marketing skills and technical innovations. She notably invented the "remuage" (riddling) process, which clarifies wine without uncorking it, a method still used today in champagne production.
In a different vein, Mary Ewing-Mulligan is a pioneer of the wine world in the United States. She is the first American woman to obtain the title of Master of Wine, one of the most prestigious diplomas in the wine industry. She is also co-author of several wine books and founded a wine tasting school in New York.
But it is not only in the modern wine world that women are active. In the Middle Age, women were often responsible for wine making in monasteries and abbeys. Saint Hildegard of Bingen, a German nun of the 12th century, was an expert in wine and wrote a treatise on the therapeutic virtues of wine.
In the 1960s-1970s, a new phenomenon emerged: women who, out of passion, became creators of vineyards, without being widows or heirs. They decided to break free from their traditional role as a vineyard owner's wife, mother, or daughter to become the main actors of their own vineyard.
Today, they are no longer considered mere accessories to men but as independent and creative entrepreneurs.

Women are indeed making waves in the world of organic and biodynamic wine production. Leading viticulturists like France's Marie-Luce Metais, the US's Alice Feiring, and Argentina's Susana Balbo are producing wines with minimal chemical intervention and techniques that respect the local ecosystem.
But it's not just production where women are leading the way. Prominent sommeliers and wine critics such as Isabelle Legeron, Elaine Chukan Brown, and Jancis Robinson are promoting the benefits of organic and biodynamic wines to a wider audience.
Overall, women are driving more sustainable practices in the wine industry and making it more accessible for consumers who value environmentally friendly and healthier options.

Pascaline Lepeltier is an excellent example of a woman who is breaking barriers and promoting the role of women in the wine industry. She was the first woman to be named 'Best Sommelier ' in France and is a strong advocate for natural and sustainable winemaking.
Lepeltier's passion for natural wine and sustainability extends beyond her own business. She is an active member of the Court of Master Sommeliers and is a frequent speaker on the topics of organic and biodynamic wine production. She is also a mentor to aspiring women in the industry, helping to break down barriers and encourage more women to pursue careers in wine.
And in Singapore? Well, even though we don't have any women winemakers locally, we import them and distribute their wines.
We also created a professional network of the 'Women of the Wine' where we meet regularly to share wines based on a chosen theme and support one another.
Everyone is free to invite to this group any women in the wine industry they know. Sommeliers, Wine importers, Wine journalists and Wine Directors make the bulk of our network whether they are from start-ups or major companies and it keeps growing. So, if you know one of them who is not yet part of the network, let me know!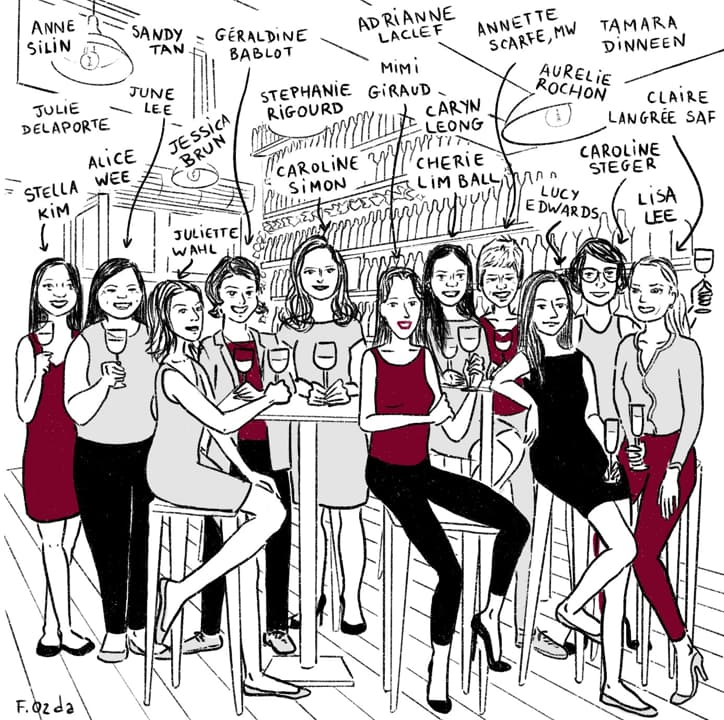 How else can you support women in wine? Buy from female led companies, choose restaurants with a lady sommelier, seek women made wine…
Every purchase you make is a vote towards a future world you want to live in. We believe it is one where women should be equally represented in the wine industry.
At A Wine Adventure, we have a special category for wine made by women.
Let's meet some of these women, support them, and highlight their amazing work:
Meet Marianne Gamet
CHAMPAGNE GAMET, CHAMPAGNE FRANCE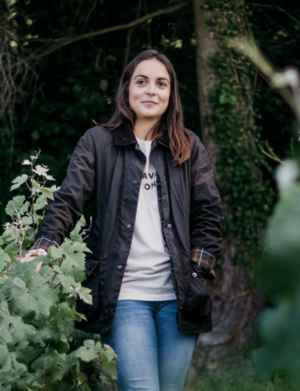 Since I was born, I've been rocked by the vibes of making champagne and it naturally became a passion. I guess…also…having the chance to work for myself and develop my own project was a really good reason to take over the family business.
Marianne Gamet
Marianne took over her family vineyard after finishing the French business school EDHEC and now runs the business, that spans 4 generations, with her brother. She produces an organic Champagne in the Marne Vallee and uses a mix of modernity and tradition in her approach.
Her wines are made in both stainless vats and oak barrels, exhibiting a great diversity in style, finesse and savoir faire.
Meet Baia Abuladze
BAIA'S WINE, WESTERN GEORGIA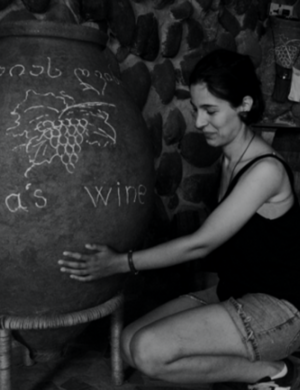 Baia Abuladze is a young 25-year-old winemaker who is making some of Georgia's buzziest wines. Baia, her sister Gvanca and their family are bringing new life and energy to Imereti, a region with an intense history as a separate kingdom from the 15th century.
Baia's and Gvanca's wines all centre around indigenous grape varieties of the Imereti region. Baia produces her wines using the traditional method of Qvevri, where large earthen clay jars are buried under the ground.
With the help of women winemaker specific grants, Baia procured the necessary tools to bottle their first vintage in 2015 comprising of 5,000 bottles.
Over the years, Baia and Gvanca have been making unique women made wines with a purpose of preserving and being a part of the 8,000 years old Georgian wine tradition.
Over 50% of Georgia's agriculture sector workforce is comprised of women, but there is only a handful of commercial women winemakers in Georgia.
Meet Julia Casado
LA DEL TERRENO, BULLAS DOP REGION, SPAIN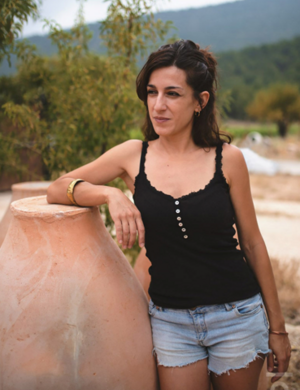 La Del Terreno was created by the young, pioneer winemaker, Julia Casado, who dedicates all her time to the traditional viticulture of the Monastrell grape. Coming from a background in music, Julia Casado's first encounter with winemaking came in the Pfalz region of Germany where she displayed her musical skills, playing the cello on stage at a local winery.
Julia's musical sensibility shows in her wine. Monastrell can be a tough grape, especially in a hot Mediterranean climate, but somehow, she has managed to make it sing in harmony with some of the region's best.
In 2016, she ventured out on her and built her own winery from modular units and railway sleepers in the small appellation of Bullas. She has produced her wine there ever since.
Julia tends to 50-year-old bush vines, situated on sandy loam soil in three different villages in the north-west region of Murcia: Moratalla, Cehegín and Bullas. She is an independent, strong, and courageous producer who started this project on her own, with minimal intervention and no agrochemicals. This work results in incredibly expressive natural, modern wines.
Meet Anna Martí Pitart
CA N'ESTRUC : ESPARREGUERA, CATALONIA, SPAIN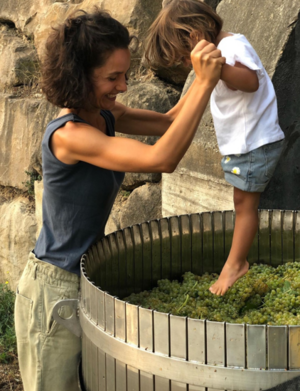 Anna Martí Pitart is a viticulturist who grew up in a family of winemakers at Ca N'Estruc estate, which was established in 1574. Her father, Francisco, has been making wine there for many years, and the family has a long tradition of viticulture. Anna has been working with her father to embrace high-quality, environmentally conscious agriculture, replanting the estate to indigenous Mediterranean varieties and moving away from selling wines in bulk.
They have been certified organic since 2012 and are pursuing Biodynamic certification from Demeter.
Since 2013, Anna has been making her own wines under the Ca N'Estruc label, focusing on ancient, low intervention methods and smaller production quantities. She works without additives, never filters or clarifies, and bottles only by gravity.
Anna farms local varieties at Ca N'Estruc, blessed by Mediterranean breezes and sheltered from northern winds by the iconic Montserrat mountain range.
Anna has been working with local experts to pursue Biodynamic certification from Demeter since 2019 !
Meet Susana Pérez
PASO DE SAN MAURO, RIAS BAIXAS, SPAIN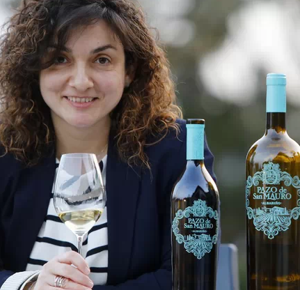 Although I was born in Vigo, my family is from the Ponteareas area. My grandparents, and then my parents, had a vineyard and a small winery for self-consumption and some sales in the surrounding area. I helped them as much as I could, in the field work, during the harvest... It's something that has always been a part of my life. Later, I went to study Agricultural Engineering at the University of Santiago and furthered my studies in oenology at the Miguel Hernández University in Alicante. Afterwards, I worked at another winery in O Condado making white wines, and before that, with red wines in Alicante and Priorat.
Susana Pérez
Today, Suzana Pérez is one of the 3 excellent oenologists of the 3 wineries of Vargas. She is also in control of the Pazo de San Mauro winery and its wines are worth a visit
Meet Virginie Barbosa Lepreux
CHAMPAGNE LEPREUX-PENET, CHAMPAGNE, FRANCE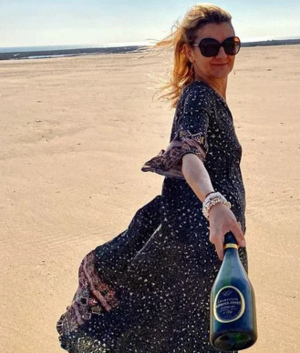 Following the family legacy, in which the vines were first grown by her grandfather Jean-Marie Penet and the house was established by her aunt Florence Penet and uncle Jean-Paul Lepreux, Virginie beautifully carries on the family history.
She runs the domain along with her husband François and takes care of 8 hectares of vineyards that have been classified as Grand Cru in Verzyand Verzenay. Creating bubbles and precious moments at her domain, she is a stunning woman who has continued her family legacy with the utmost grace.
Meet Christelle Guibert
CEO OF THE INTERNATIONAL WINE & SPIRITS COMPETITION AND EX-TASTING DIRECTOR DECANTER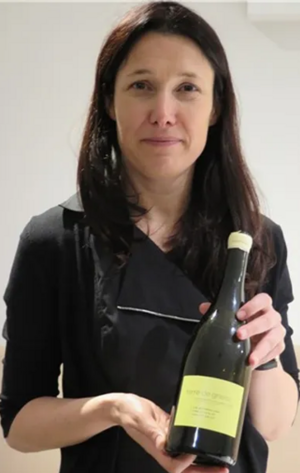 Being brought up in the Loire Valley, Christelle is one of France's most influential women in wine as the former tasting Director of illustrious magazine, 'Decanter'.
Not long ago, she stumbled across derelict vineyards in the Muscadet region and was inspired to make her own wine. Christelle teamed up with Vincent Caille of Domaine Le Fay d'Homme, with the aim of reviving the vines and the reputation of the region.
Her wine is solely based on vines planted way back in 1954 on gneiss made biodynamically. Only a handful of bottles are produced each year.
Meet Meike and Dörte Näkel
WEINGUT MEYER NÄKEL, GERMANY
Being the fourth generation of the family, Meike and Dörte run the Ahr Valley wine estate along with their parents and have embraced their family's passion and skill for winemaking. Both the sisters completed initial training as vintners and went on to study wine cultivation. They gradually took over the estate with a handover from the previous generation.
Today, they are successfully making the magnificent terroir of the steep slopes by the Ahr tangible in mineral-laden and fruity Pinot Noirs. They are now known as the "The Pinot Sisters" who's family have written red-wine history on the northwestern fringe of Germany's stunning Ahr River region with their use of Spatburgunder (German word which translates into "Late Burgundian").
Meet Céline Barbier
CHAMPAGNE BARBIER-LOUVET, CHAMPAGNE, FRANCE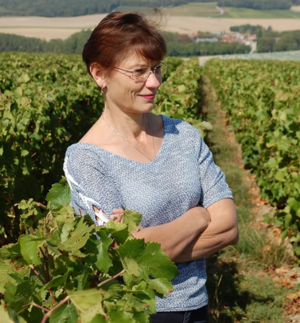 Owner of the boutique Champagne house Barbier-Louvet, Céline is the sixth-generation in the family to work on this property. She, along with her brother, handles their Premier Cru vineyards in Montagne de Reims. She is the winegrower and export manager of the House, and they produce 40,000 bottles every year.
The grapes that don't make it into their sumptuous blend are sold to the very famous Veuve Clicquot House. She will continue to hold the legacy of Champagne Barbier Louvet graciously for the years to come.
Meet Corinne Chevrier
BEL-AIR LA ROYERE, BORDEAUX, FRANCE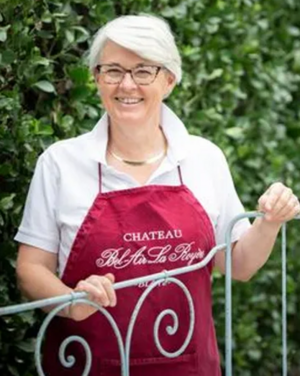 Setting the benchmark of the Blaye Côtes de Bordeaux appellation, Bel-Air la Royere has been a well-known name since 1992.
Corrine Chevrier has always looked for originality and perfection in her wines by creating some of the amazing Merlot-Malbecblends. Increasing the popularity of the Malbec or Côt, a known Bordeaux grape variety which was not used to its rightful potential, Corrine has proven that the varietal has real aging potential. Her beautiful Malbec-Merlot blends give extra importance to Malbec variety in their domain proving it to be not just an illegitimate child of the Bordeaux vineyards.
These are only eleven of the driven women playing a major role in the wine industry, but their contribution is unmatched.
On this day of International Women's Day, it is important to understand that it was and still is a battle, but over time female winemakers have come to the forefront. These women produce wonderful wines, with a sense of life and rich, heart-filled stories.
On this occasion, let's drink their wines and directly support them by consuming the fruit of their labor. For when you taste one of their wines, you are not simply sipping a drink, wine is more than that. You will meet the people, their history, their terroir, their family, their philosophy and everything that made them decide to embark on this crazy adventure of making their own wine.
That is why we, like so many others, love this fascinating world, filled with beautiful, hardworking, and extremely deserving women! Happy International Women's Day!
by Mimi Giraud