This WEBINAR offers a unique opportunity for an up-close conversation with Mr CHNG Kai Fong, Managing Director of EDB.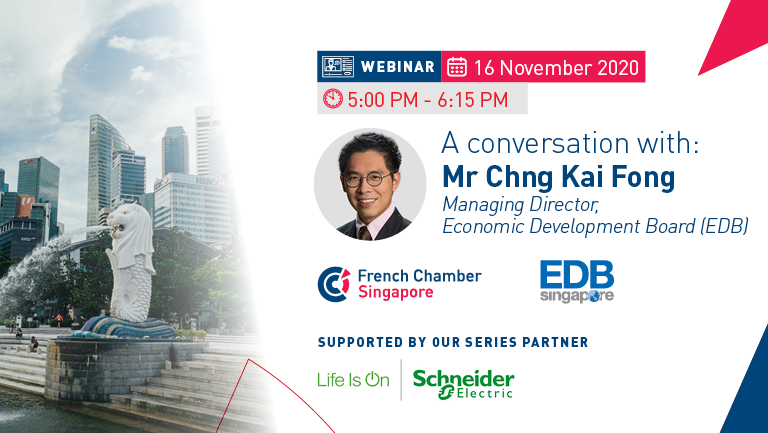 Join this discussion with Mr CHNG Kai Fong -Managing Director of Economic Development Board (EDB) - on how businesses should position for growth during these uncertain times, and how Singapore is responding to the situation.
Economic Development Plan (EDB) also looks forward to collaborating with members of the French Chamber across different business activities and industries.
The dialogue will be moderated by Pascal Lambert, Group Country Head Singapore and Head of South East Asia and India at Societe Generale and President at the French Chamber of Commerce.
Programme:
Opening remarks by Pascal Lambert
Discussion moderated between Mr Chng Kai Fong and Mr. Pascal Lambert
A Q/A session with questions from the Audience
About the speaker:
Mr Chng was appointed Managing Director of the Singapore Economic Development Board (EDB) on 1 October 2017.
Before EDB, Mr Chng was the Principal Private Secretary to the Prime Minister. He had also served in the Ministry of Trade and Industry, Civil Service College, Ministry of Home Affairs, and the Ministry of Communications and Information. As part of the Public Service's development programme, Mr Chng was also seconded for two years to Shell.
Mr Chng graduated from the University of Cambridge with a Master in Engineering in 2001, and from Stanford University's Graduate School of Business with a Master of Science in Management in 2012.
Mr Chng is married with two daughters and a son. In his younger days, he freelanced as a Euphonium player and an amateur conductor. These days, he waves his hands when classical music is playing on the radio, to the bewilderment of his children.
Terms & Conditions
The link to join the Webinar will be sent to you 1 day prior to the event.