This fireside chat offers a unique opportunity for an up-close conversation with Mr. Lim Eng Hwee, CEO, Urban Redevelopment Authority (URA).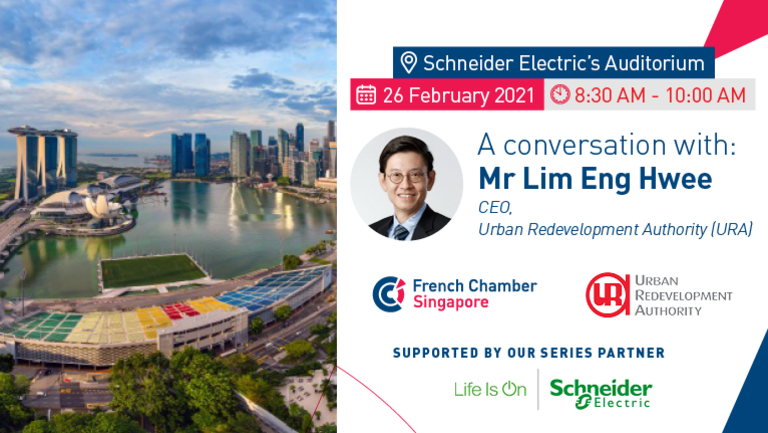 Planning for Singapore's Future
As a small city-state, comprehensive and integrated planning allows Singapore to optimise its limited land to meet the needs of current and future generations. This means taking the long-term approach to balancing the social, economic and environment considerations of urban development, and working closely amongst government agencies and the public when we produce and review our Master Plans.
Join us for a dialogue with Mr. Lim Eng Hwee, CEO of Urban Redevelopment Authority (URA), to hear how Master Plan 2019 (MP19) will guide Singapore's development over the next 10 to 15 years. MP19 focuses on planning for inclusive, sustainable and green neighbourhoods with community spaces and amenities. It also includes strategies that plan for the rejuvenation of familiar places and for creating capacity to meet Singapore's future needs.
Urban Redevelopment Authority (URA) also looks forward to collaborating with members of the French Chamber across different business activities and industries.
The dialogue will be moderated by Alexandre Parilusyan -VP Business Transformation, Global Accounts Director at Dassault Systemes.
Programme:
From 8.00 am : Registration and welcoming attendees
8.30 am : Opening Remarks by Alexandre Parilusyan
8.40- 9.00 am : A presentation on the Master Plan by Mr Lim Eng Hwee LIM
9.00- 9:40 am : Fireside chat between Mr Lim and Mr Parilusyan
9:40-10:00 am : A Q/A session with questions from the Audience
Optional: please contact amartin@fccsingapore.com if you wish to visit the Schneider Electric Singapore Innovation Hub after the talk.
About the speaker:
Mr. Lim Eng Hwee, 52, was awarded the Colombo Plan Scholarship to study at the University of Auckland where he graduated with a Bachelor of Planning. He was subsequently awarded the URA's Postgraduate Scholarship and obtained a Master in Public Administration from Harvard University in 1997. Mr Lim is presently the Chief Planner and Deputy Chief Executive Officer of the URA.
Mr. Lim joined URA in 1990 and has almost 30 years of extensive experience in urban planning, urban design and implementation of land use polices and development initiatives. He has played a key role in the master planning of Singapore Suzhou Industrial Township and software transfer programme for Chinese officials.
Mr. Lim has also served in the Ministry of National Development's Strategic Planning Division from 1995 to 1996 and in the Ministry of Trade and Industry as Deputy Director (Manufacturing & Technology), Industrial Division, from 1999 to 2001 where he helped to drive the Technopreneurship initiative. He has served on the Board of Land Transport Authority and is currently a member of the Science Centre Board and Singapore Cooperation Enterprise Board.
As Chief Planner of the URA, Mr. Lim sets the direction and coordinates land use and physical development plans across agencies in the government, and works with the private sector to realise the planning vision. Under his guidance, URA completed various Concept Plan studies and Master Plan review exercises. He led the inter-agency efforts during the last review exercise in engaging extensively with community groups, professional bodies and private sector partners to create the vision of an inclusive, highly liveable, economically vibrant and green home for all Singaporeans in the Master Plan 2014.
For his contributions, Mr. Lim was awarded the Public Administration Medal (Silver) in 2006
Terms & Conditions
This event is open to members.
Full payment is required upon registration.
Should you need to cancel, please do so no later than two working days before the date of the event.
No shows will not be refunded.
Please note that photographs and videos may be taken during the event for news and publicity purposes.
Safe management measures
We look forward to welcoming you and your safety is our priority.
This event is subject to a cap of 50 persons.
Temperature checks for all guests entering the venue will be provided.
Safe distancing measures will be adhered to throughout the event.