Creating, tasting, sharing.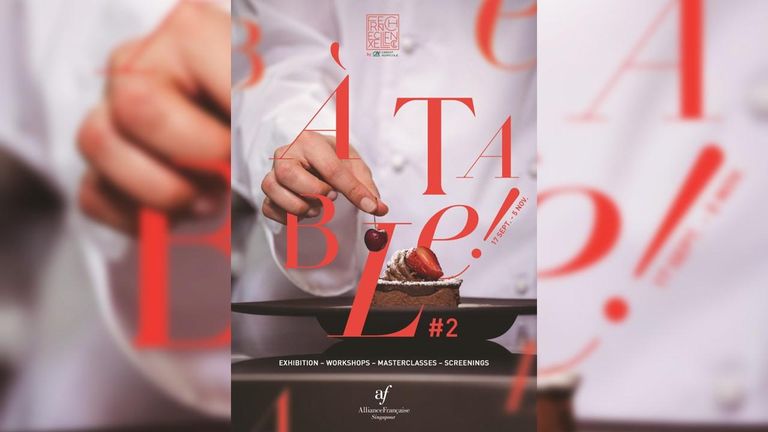 After the success of À TABLE ! The French Art of Fine Dining in April 2021, Alliance Française de Singapour unveils À TABLE ! #2, celebrating French gastronomy through a large array of events, from 17 September to 5 November 2022.
Gastronomy through the ages has been enriched by multiple cultural influences and is tirelessly renewed by its products. UNESCO's recognition of the French gastronomic meal as part of their heritage is the culmination of a long history and the French meal is nowadays celebrated by everyone and everywhere! Alliance Française is no exception and presents a new culinary journey to experience French Gastronomy, under the patronage of esteemed Chef Guillaume Gomez, former chef at the Elysée Palace, and Personal Representative of the President of the French Republic for Gastronomy, Food and Culinary Arts.
The main exhibition, Bon Appétit ! The French Gastronomic Meal showcases the evolution of gastronomy, ingredients, and culinary techniques in France through the ages. From the first men to Paul Bocuse, discover the great recipes and chefs in the history of French cuisine. Organized in partnership with Daum, De Buyer, Gaggenau and Haviland, it will also present a Banquet Room and a Kitchen, equipped and adorned by the best French suppliers.
The transformed gallery will welcome a tremendous number of Masterclasses and Workshops, from the most prestigious French Chefs, Sommeliers and Experts in Singapore. Some of the highlights include cooking Masterclasses with three Michelin Star Les Amis' chef Sébastien Lepinoy, or two Michelin Star Saint Pierre's chef Emmanuel Stroobant, Caviar tastings with Petrossian, Chocolate tastings with Valrhona, Wine and Champagne tastings and much more.
MASTERCLASSES
Learn from the most inspiring French chefs in Singapore in a kitchen specially built for the occasion and equipped by the best French suppliers. For beginner or well-seasoned chefs.
Chef Lepinoy from Les Amis
Chef Emmanuel Stroobant Saint Pierre
Chef Julien Mercier from Claudine
The Art of Tartare with Boeuf
The Art of Hamachi Crudo with Poisson
Macarons with Chef Christophe Blanc
WORKSHOPS
Join our banquet table and tickle your taste with engaging workshops from French and Francophone providers in Singapore: satisfy your palate with the best food and drinks France has to offer!
Caviar with Petrossian
Chocolate with Valrhona
Cheese & Cognac with Cheese Club and Maison Ferrand
Mixology with Perrier
Champagne with The Vintage Wine Club
Wine with Magnum Opus Wines
Wine & Cheese with So France
Gin with Ginealogy
Cocktails with Moonstone
SCREENINGS
Engage your senses in our theatre with a selection of movies and documentaries around French cuisine and chefs!
"Delicious" from Éric Besnard
"Michelin Stars: Tales from the Kitchen" from Rasmus Dinesen
"Terroir to Table" from Rasmus Dinesen
"The Tasting" from Ivan Calbérac
Dates and details on our website: https://alliancefrancaise.org.sg/a-table-2#/
Fabian Forni, Executive Director of Alliance Française de Singapour, said: "Come stimulate your five senses in this tribute to gastronomy and embrace this extraordinary experience with us. Bon appétit !"
Founded on the belief that that developing mutual understanding and going beyond intercultural boundaries through the discovery of languages (education) and cultures (arts) can help humanity to live in a more respectful world, Alliance Française de Singapour organises over 200 cultural events a year. Presenting a refreshed theme every few months, recent highlights of the French Excellence programme by Alliance Française include DANCE: A Tribute to Rudolf Nureyev dedicated to one of the most illustrious figures in ballet, REWARD – which spotlighted the French art scene as part of Singapore Art Week 2022, and most recently, NOTRE-DAME – paying tribute to the architectural masterpiece.
Alliance Française de Singapour would like to thank its partners – Crédit Agricole, Perrier, Vittel, EHL, Daum, De Buyer, Gaggenau, Haviland, Atout, Boeuf, Cheese Club, Claudine, Ginealogy, Les Amis, Magnum Opus Wines, Maison Ferrand, Moonstone, Petrossian, Poisson, Saint Pierre, So France, Valrhona, The Vintage Wine Club for helping to bring À TABLE ! #2 to life.
For more information about Alliance Française de Singapour and information on booking tickets, visit: https://alliancefrancaise.org.sg/a-table-2#/