If you're looking to build a remote high-performance team, join our upcoming panel discussion to hear from business leaders who've been there and done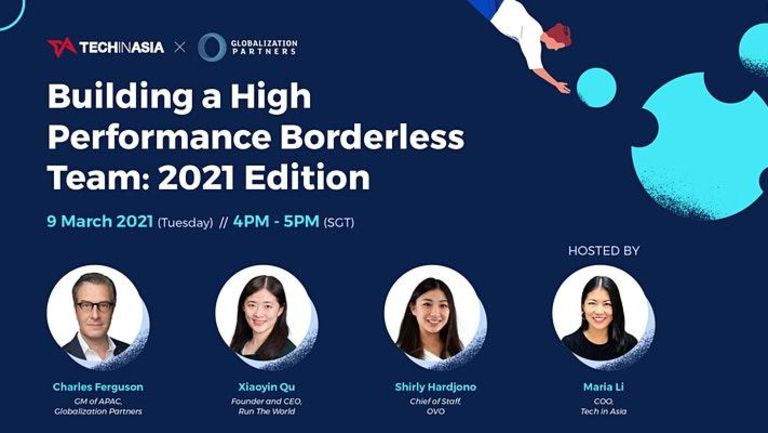 The work-from-home revolution has changed the way companies hire and manage their employees.
The trend has diminished the need for physical offices, making it more viable for organizations to hire beyond borders and build remote teams. That said, making the shift is often easier said than done: Challenges such as complicated legal paperwork, difficulties in tracking team progress, and problems ensuring smooth communication prevail.
How can startups expand overseas while maintaining and even improving their operations?
Charles Ferguson - General Manager of Globalization Partners, Xiaoyin Qu - CEO of Run the World, and Shirly Hadjoni -Chief of Staff of OVO will be sharing the challenges and lessons they've encountered in building and managing remote teams. Discover the latest global workforce trends, how to build borderless teams, and how you can best prepare your team for 2021.
Topics covered:
Key global workforce trends in 2021
Common mistakes and challenges in building and adjusting to a remote team
Best practices in recruitment, onboarding, retention, and offboarding
Future opportunities on borderless team management
Who should attend?
Startups who want to expand overseas and recruit global talent
Startups who want to transform their workplaces
Why should you attend?
You get to hear from business leaders on the best practices and tips on recruiting global talent and managing borderless teams.
You can learn the inside scoop on future workforce trends.
You can forge connections with industry peers.
You get the chance to pose your pressing questions to our panel of hiring experts.
Agenda
Opening remarks: 15 minutes
Panel discussion: 30 minutes
Q&A: 15 minutes
Speakers
Charles Ferguson, general manager of Globalization Partners
Xiaoyin Qu, founder and CEO of Run the World
Shirly Hardjono, chief of staff for OVO
Maria Li, chief operating officer at Tech in Asia (moderator)
This is a free event with limited seats, so make sure to RSVP before March 7, 2021!
About Tech in Asia
Tech in Asia (TIA) is the largest English-language technology media company that focuses on Asia. From the latest news and hottest trends to the boldest startups and strongest titans, TIA covers everything tech in the region. The company aims to build Asia's tech and startup community by bridging the gap between businesses and the information, talent, and connections they need.
About Globalization Partners
Hire anyone, anywhere, quickly and easily. Use our AI-driven, automated, fully compliant global Employer of Record platform powered by our in-house worldwide HR experts. Leave the complexities of global employment to the named industry leader that consistently attains 97% customer satisfaction ratings. With Globalization Partners, you can succeed faster.
Globalization Partners: Breaking Down Barriers for Everyone, Everywhere
To learn more, please visit: globalization-partners.com or connect with us via Twitter, LinkedIn, Facebook, or check out our Blog.