Join Stratence Partners' workshop on Digital Transformation for Profitable Growth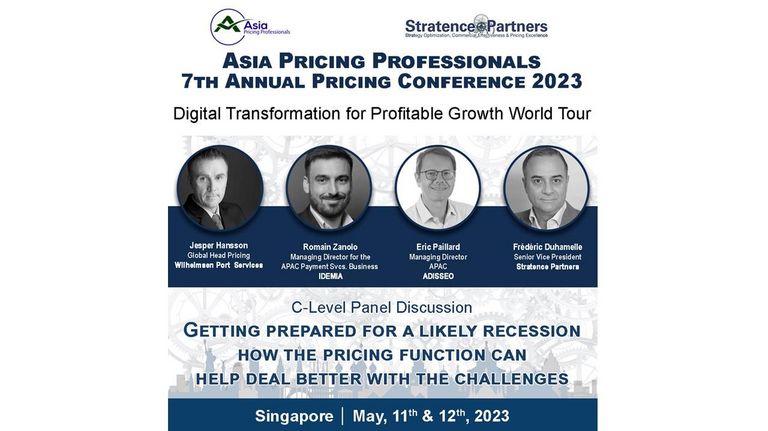 As the global economy is likely to enter a recession, companies are looking for ways to go through these uncertainties and keeping their business afloat. One area that is often overlooked is pricing strategy. Many companies are reluctant to manage their prices proactively, fearing that it will alienate customers or put them at a competitive disadvantage. However, pricing is an important tool that can be used to manage demand and improve profitability. In fact, research has shown that companies that are proactive in managing their pricing during a recession outperform those that don't.
During this highly interactive session, we will:
Understand better the "unknown power of pricing", with concrete examples & results from renowned companies
Share best practices to get prepared for a potential recession
Discuss how a robust pricing management function can help increase your company's resilience & get ready for any upcoming challenges
Panelist:
Romain Zanolo, Managing Director APAC Payment Services at IDEMIA
Eric Paillard, Managing Director APAC at ADISSEO
Frederic Duhamelle, Senior Vice President APAC at STRATENCE PARTNERS
Jesper Hansson, Global Head Pricing at WILHELMSEN PORT SERVICES & President of the Asia Pricing Professionals Association
Cost: SG$500, including breakfast, coffee/tea and lunch
Free pass only for the 10 first FCCS members registered – please contact Jesper Hansson now on: jh(@)pricingconference.com to get your free pass
All event profit given to Daughters of Tomorrow charity in Singapore.
More information here: https://pricingconference.com/
Register now to gain valuable insights from industry and thought leaders and learn how to get prepared to outperform the competition in tough times.