The French Chamber's physical talks are back! With this cross-committee panel, let's discuss talent development and function transformation.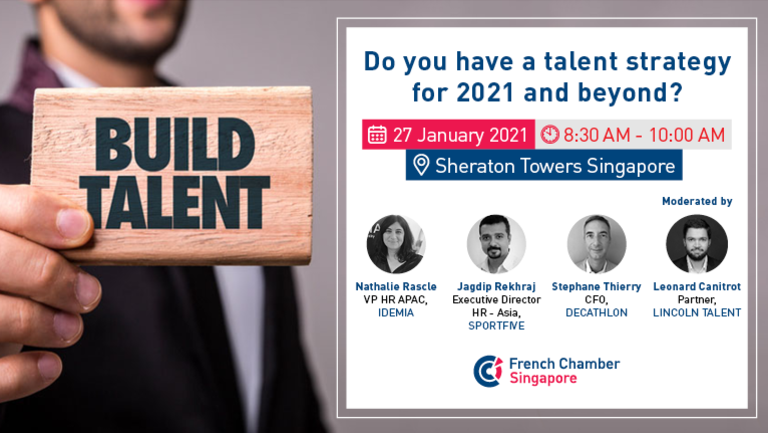 2020 has been a year unlike any other as a rollercoaster for all the companies. They have been impacted in many ways, including profitability and growth but also organizational leadership and digital collaboration with remote work, virtual training, workplace wellness and accelerated transformation of various functions.
Opportunities have been created to boost organizational effectiveness and give employees new ways of driving impact in everything they do.
With 2021 right around the corner, our experts will share their expertise and experiences to discuss trends, prospections and talent strategies that we can expect for this new year and beyond...
Programme
8.00am: Registration and Welcome
8.30am: All guests to be seated
8.30 - 10am: Panel discussion and Q&A session
About the speakers

Nathalie Rascle, VP HR APAC at IDEMIA on talent strategy in 2021 and transforming support functions - Experience sharing
Nathalie Rascle is currently Vice President of Human Resources for IDEMIA in APAC. She is responsible for the training, mobility and skills development of employees in all markets across the region. Nathalie has 10 years of experience in human resources, employment, internal mobility, and project management. She joined IDEMIA in 2014 as Human Resources Manager for APAC, experienced the merger between the two companies Morpho and Oberthir Technologies as HR integration leader and took over as HRD for one business unit of the group before moving to Asia in 2019. Nathalie holds an MBA in HR International Mobility and an MBA in Social Law and HR Management from Paris.

Jagdip Rekhraj, Executive Director HR - Asia at SPORTFIVE: Talent Strategy for 2021 and beyond – considerations in the attraction, hiring and onboarding of talent.
Jagdip is currently the Executive Director HR Asia for Sportfive, a global sports agency that until recently was known as Lagardère Sports & Entertainment. He started his career in Ernst & Young's Corporate Finance and Restructuring division 20+ years ago but found his calling in HR. Since then, he has assumed several HR roles of increasing responsibility with organizations in a diverse range of industries, such as Towers Perrin Forster & Crosby (now Willis Towers Watson), General Electric, HSBC, Aker Solutions and now, Sportfive. Jagdip holds an BBus. in Accounting & Finance and an MSc. in Organizational Psychology.

Stephane Thierry, CFO at DECATHLON on talent management and transforming the finance function worldlwide – Best practices at DECATHLON
Stephane has spent most of his career at Decathlon in Asia and Europe. He is a Mentor CFO and takes pride in supporting the company's purpose "to sustainably make the pleasure and benefits of sport accessible to the many", everywhere in the world and especially in Singapore. Beside his role as Mentor CFO, he also leads the Transformation Project and HR & Talent Development function for Decathlon's global finance division.
The panel discussion will be moderated by:

Leonard Canitrot, Partner at LINCOLN TALENT
Lincoln mission is to support leaders and managers throughout their professional life cycles through Executive Search, Executive Interim Management, Leadership Advisory and Outplacement.
Leonard Canitrot is General Manager for South-East Asia activities as well as Group Head of Innovation, accelerating Lincoln disruptive positioning as the first Talent representation company.
Terms & Conditions
This event is open to members and non-members.
Full payment is required upon registration.
Should you need to cancel, please do so no later than two working days before the date of the event.
No shows will not be refunded.
Please note that photographs and videos may be taken during the event for news and publicity purposes.
Safe management measures
We look forward to welcoming you and your safety is our priority.
The breakfast talks are subject to a cap of 50 persons.
Temperature checks for all guests entering the Hotel will be provided at the lobby.
Food and drinks will be provided but attendees will be served individually and seated. We ensure at least one meter spacing between individuals at the round tables.
Thank you for your understanding.
Event Location